A Beginner's Guide to Kush Weed and Its Effects
If you are dying to find out what is kush weed, you have come to the right place. 
As you may already know, there are a few categories of cannabis, and the three main ones are Indica, Sativa, and hybrids. 
However, weed can be categorized via a vernacular that is defined by pop culture, like Purple, Haze, and Kush. 
These three terms refer to the cannabis type that is characterized by unique flavours, aromas, and certain geographic spots. 
So, what is Kush weed and why is it booming in popularity? 
This article outlines and explains everything you need to know about kush weed, including its characteristics, special effects, and the most popular kush strains. 
Before getting started, make sure to purchase high-quality kush from only the best in the business. 
If you are searching for the best weed dispensary in Canada, we recommend a reliable pot store such as Chronic Farms.
With that in mind, here is what you need to know about kush weed.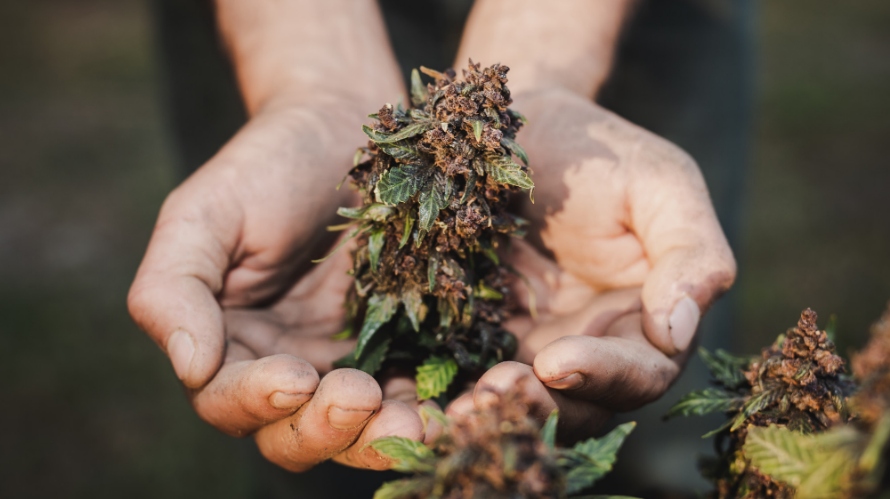 How Do You Categorize Cannabis?
Before understanding what is kush weed, it is important to briefly go through the different ways we can categorize cannabis. 
While some people would only place cannabis into two categories, bad or good weed, there is much more than that. 
As you might already be aware, there are three main categories of cannabis strains:
Although there are more than 18,000 known strains, essentially each of them can be traced back to three families of strains:
Now, most cannabis connoisseurs use Indica, Sativa, and hybrid categories to determine the potency and the kind of high they will reap from a particular strain. 
However, this is not the best method to choose the right strain for you. 
In fact, some experts claim that the chemical profile of the strain is what actually determines how a specific strain functions.
Kush, Skunk, and Haze are three legendary strains that breeders have been using to create countless new cannabis strains. 
The "baby strains" of these three have inherited the flavour, aroma, appearance, and psychedelic effects from the iconic parents. 
You will also come across many strains that have been mixed with "landrace" strains – these are native cannabis strains that were found growing wild in regions worldwide.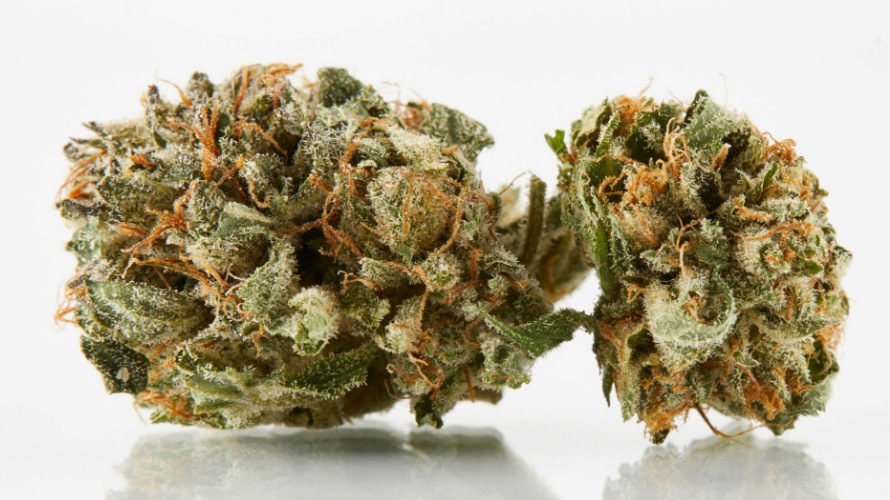 What is Kush Weed?
So what is kush weed?
The Hindu Kush mountain range spans some of the most idyllic areas of northern Pakistan, Tajikistan, and Afghanistan, and it is famous for its majestic mountains, remote villages, and stunning rivers. 
But what does this have to do with your question "what is Kush weed"?. Let us explain.
In short, Kush is a specific cannabis variety that comes from the beautiful Hindu Kush mountains. 
In fact, the Afghanistan and Pakistan border is one of the rare regions where you can find the native cannabis plant.
Characteristics of Kush Weed
If you read somewhere that a strain has powerful Kush genetics, this typically means that the strain has some of these qualities:
Flavour

: Kush weed emits a herbaceous and smooth vapour or smoke. Typically, it will taste of grape, citrus, earth, diesel, and flowers.

Smell

: The aroma of kush weed can vary, but it is typically pungent, sweet, floral, earthy, and peppery. You can also come across herbal, gas, and citrus aromas.

Appearance

: A strain with dominant Kush genetics will have rust-coloured, bronze, or orange pistils, and chunky and dense buds. 

Effects

: You will likely experience heavy and tranquillizing effects.





True Kush strains are Indica dominant or pure Indica, so the effects are lulling, and sleep-inducing. All in all, stoners will experience a full-body high.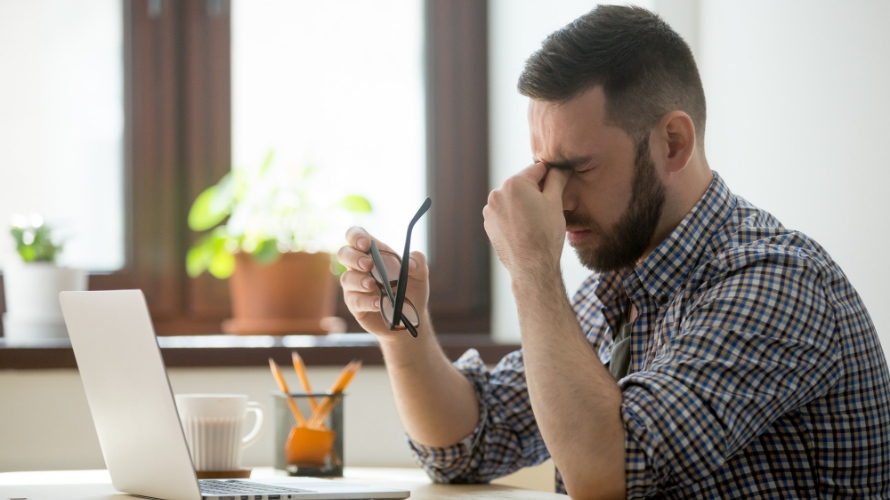 What Do They Feel Like?
Kush weed is famous for its intense and sedative high. 
As mentioned, a true Kush strain will provide you with the signature Indica effects. So, you can expect to feel sleepy, relaxed, hopelessly sedated, and drowsy. 
Recreational and medicinal cannabis users enjoy using Kush weed to alleviate feelings of anxiety, stress, tension, and inflammation. 
In fact, medicinal cannabis users prefer Kush weed for its powerful pain-alleviating properties. 
There are also certain Kush strains that will make the user feel focused and euphoric. Whenever in doubt, we recommend asking an expert at your favourite weed store. 
If you are planning to treat any underlying medical conditions or serious health issues with Kush weed, talk to a doctor first. 
Never attempt to self-diagnose and self-treat with cannabis.
The Best Kush Weed from Our Online Dispensary
Are you yearning to taste the finest Kush weed? Here are some fantastic suggestions from the best pot store in Canada, Chronic Farms. 
Yes, high-quality yet cheap weed is not a myth! Check out these detailed reviews and get some mail order marijuana delivered to your doorstep today!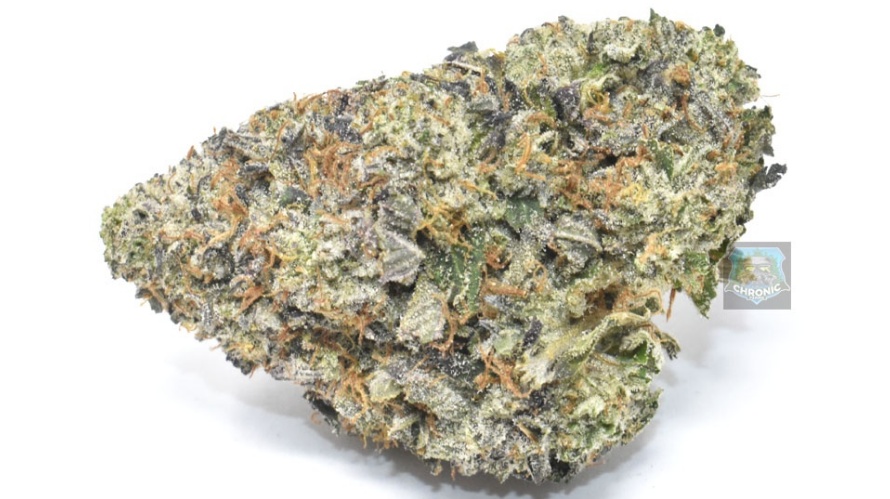 Purple Kush is a pure Indica and the "baby" of Purple Afghani and Hindu Kush. 
It provides you with a THC percentage of up to 22 for an unforgettable sedative experience. 
According to consumers, this top-grade Purple Kush strain will give you an almost immediate effect that will leave you slightly introspective and entirely pain-free. 
Get ready to feel uplifted, euphoric, and fully composed. 
If you are dealing with anxiety, stress, and muscle spasms, this is the ideal strain for you. Get it today at Chronic Farms for as low as $9.99.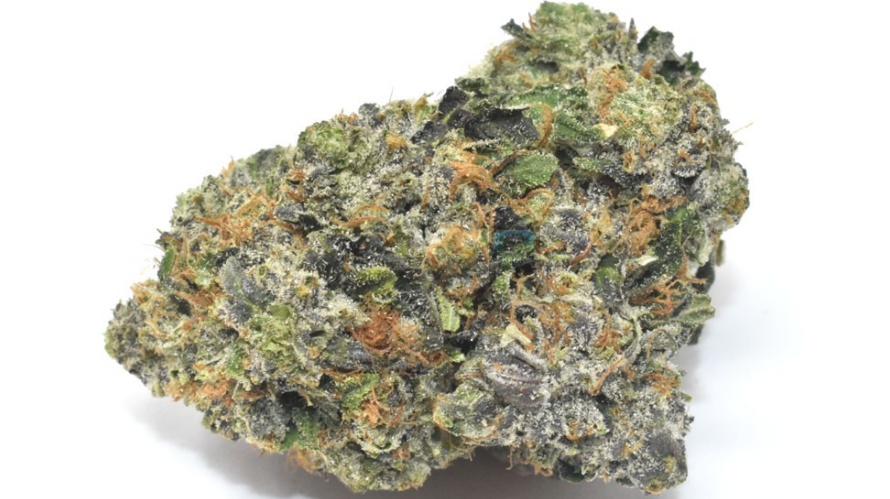 Master Kush Ultra (MKU) (AAA)
The creme of the crop when it comes to the most powerful Indicas is the Master Kush Ultra or MKU strain. 
This is a famous Indica leaning hybrid with powerful cerebral effects. In case you're wondering, MKU is a blend of the Sativa and Indica versions of the famous OG Kush. 
On average, it gives you around 18 percent of THC, so MKU is suitable for beginners and consumers looking for milder effects. 
Use MKU to relieve pain, calm your nervous system and fall asleep faster. 
This cannabis strain is perfect for anyone dealing with sleep disorders such as insomnia. 
You can grab Master Kush Ultra at Chronic Farms for a mere $8.99.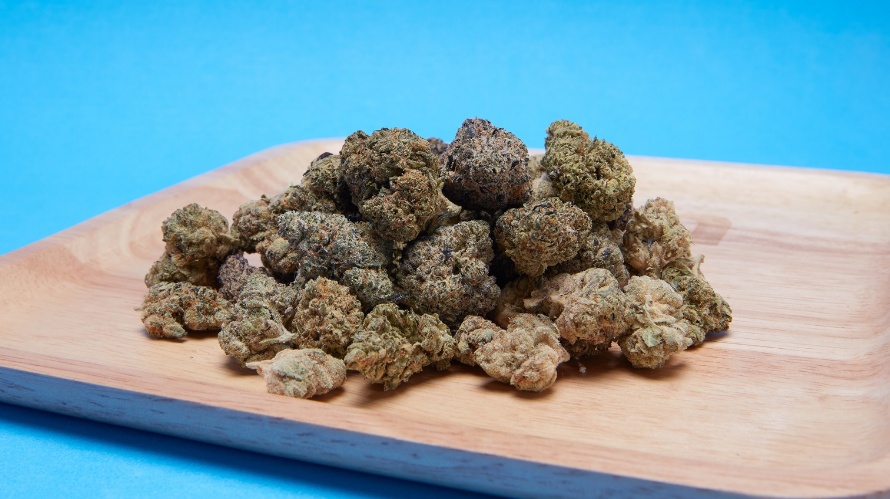 The Types of Kush Weed
Kush cannabis strains are becoming increasingly popular in the weed community, and for a good reason. 
They are incredible! Nowadays, the word "kush" is often used as a synonym for marijuana. 
That said, what are some famous kush strains you need to have in your itinerary? 
Below, we've compiled some of the most notorious strains to check out.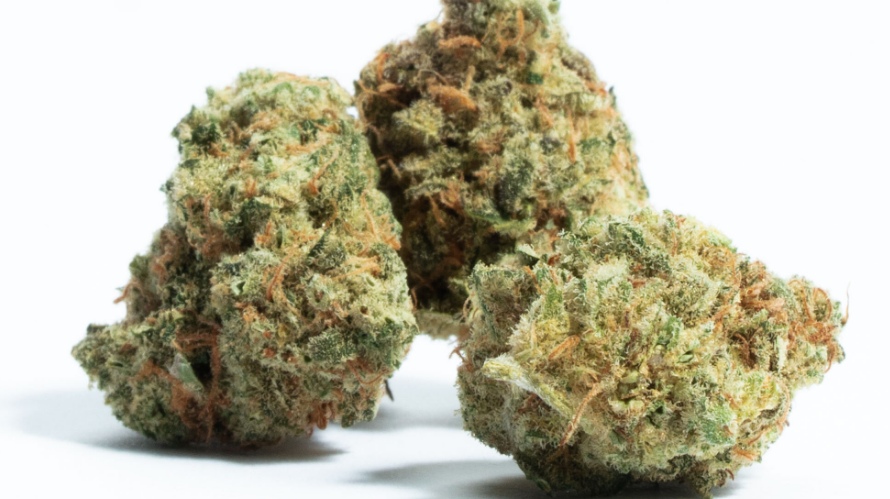 Pink Kush Weed Characteristics
Pink Kush or "Sedamen" is a famous relative of OG Kush. This is an Indica-leaning hybrid with intense full-body effects. 
The Pink Kush weed is a stunning strain to look at – imagine some of the brightest green buds and luscious pink hairs under the trichomes blanket that resembles powdered sugar. 
Not only is it irresistible appearance-wise, but the fragrance and taste are also addictive. If you enjoy candy and sweet vanilla, you will fall in love with the Pink Kush weed. 
According to the experts, this strain's potency is overpowering, and even tiny doses can help you get rid of insomnia and pain.
Hindu Kush Weed Characteristics
Hindu Kush weed or "Hindi Kush" is a 100 percent pure Indica cannabis strain that got its name after the mesmerising mountain range that it originates from. 
Due to its homeland's harsh climate, this pure Indica developed a dense, protective coat of beaming crystal trichomes. 
Besides its unique appearance, the Hindu Kush weed is known for its slightly earthy and sweet sandalwood smell, as well as its sleep-inducing and pain-relieving qualities. 
Overall, this is a terpene-rich strain. Hindu Kush weed is abundant in beneficial compounds, especially citrusy Limonene.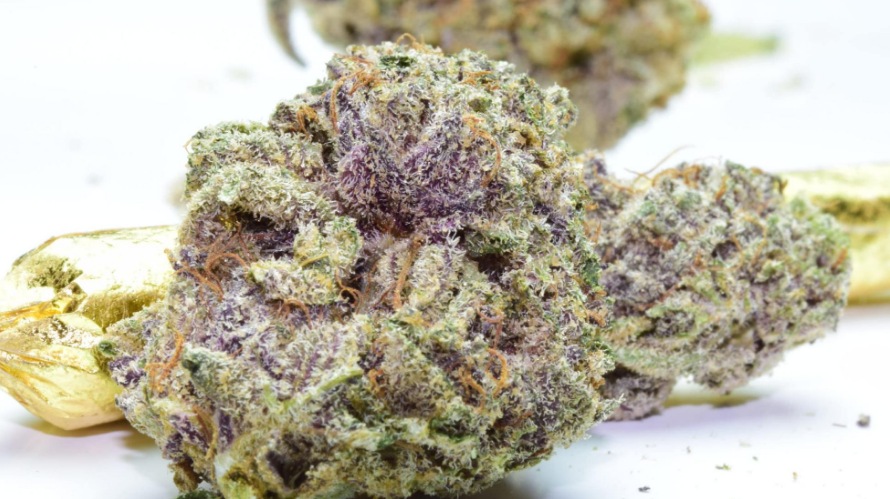 Purple Kush Weed Characteristics
Speaking of stunning strains, here is what you need to know about Purple Kush, a 100 percent pure Indica from California's Oakland Area. 
The Purple Kush weed is the child of the famous Purple Afghani and the Hindu Kush. 
This powerful strain sets itself apart from other Indicas with its vibrant purple hue and mouth-watering taste. 
Since this is a pure Indica, you can expect some of the most incredibly relaxing and stress-relieving effects. 
The Purple Kush weed takes a while to take full effect, but once it hits you, you'll feel slammed to the ground. 
On average, the effects can last up to three hours.
What is Better, Hydro Weed vs Kush?
If you're familiar with cannabis, you may have already heard about hydro or hydroponic weed. If not, here is a quick recap. 
Hydroponic weed refers to a growing method that uses a soil-free system. This means that cultivators grow plants via nutrient-dense solutions and an inert growing medium. 
Hydro weed is preferred by growers who face the following problems:
Issues with pests

Ascertaining the proper nutrient levels

Constantly needing to monitor the soil's pH levels

Not being able to recycle used soil
This brings us to the question of "what is better, hydro weed vs kush?". The answer might surprise you.
The truth is that you can't compare the two. Hydro refers to cannabis grown hydroponically, while kush is a family of strains. 
Nonetheless, consumers may wonder which one is worth purchasing and which provides the most powerful effects. 
Here's the simple answer: You will need to try a couple of strains and find out yourself. 
We recommend focusing on the quality of the grower or the reliability of your dispensary. 
Look for the best value buds that rank the highest in terms of quality, efficacy, flavour, and aroma. Take a look at Chronic Farms' collection of buds and cannabis products.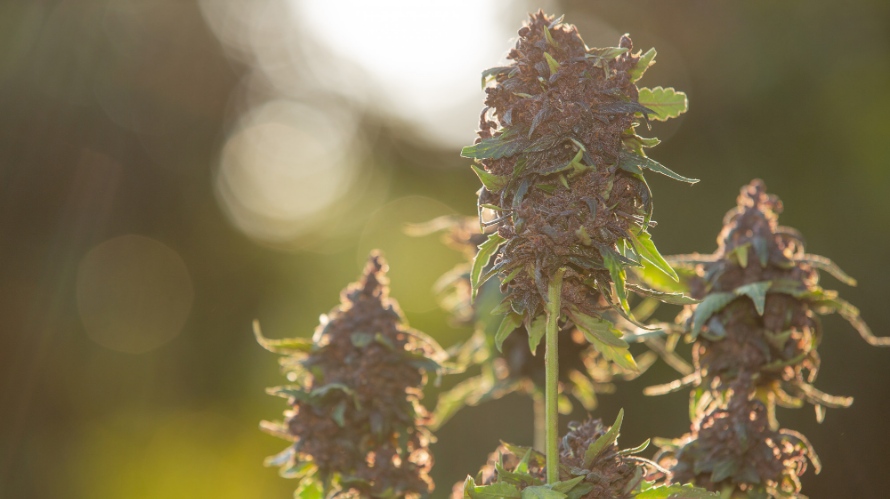 Where Can I Buy Weed Online?
Are you looking for the hottest and most delicious kush weed? Look no further! Check out Chronic Farms, Canada's number-one online dispensary.
Purchase the most powerful cannabis strains, and other top-tier marijuana products for the most competitive prices. 
Get some mail order marijuana delivered to your mailbox today. Hurry up, stocks are limited and we're selling out fast!