A Match Made in Heaven: Exploring the Delicious World of Weed Brownies
Weed brownies are cannabis-infused foods with a sweet chocolate flavour. The treat is known by many other names like pot brownies, cakey or space brownies. 
These names are synonymous with the product's potent nature, sure to appease any seasoned cannabis connoisseur 
Pot brownies are the ideal product for those that want to enjoy the benefits of marijuana and are opposed to smoking weed. 
The brownies possess a delicious chocolate flavour that eliminates the harsh taste of weed. Moreover, they eliminate the smell associated with smoking weed. 
There's more to weed brownies than their taste. They possess various therapeutic benefits thanks to the present cannabis cannabinoids and terpenes. 
All these characteristics make pot brownies an appealing product to many.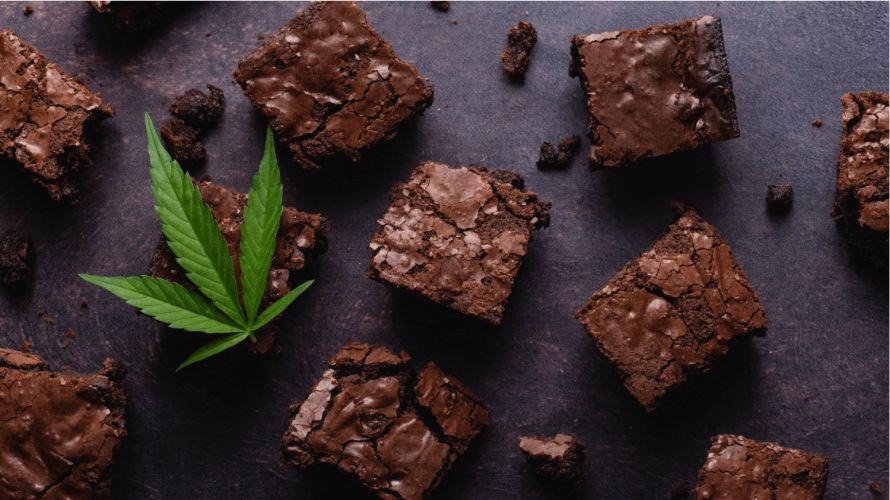 What are Weed Brownies?
Weed brownies are a classic cannabis treat with high THC content and delicious chocolate flavour.
THC is an active ingredient in cannabis that is responsible for the "high" or euphoric effects of cannabis. It also possesses various therapeutic effects; it may help with chronic pain, anxiety and sleep.
Consuming pot brownies for their medicinal and recreational properties can be traced to the 1960s. The 1st recorded recipe for weed brownies, called "Haschich Fudge," was in a cookbook published in 1954 by Alice B. Toklas. 
The book highlighted consuming the brownies produced feelings of euphoria and excitement.
Pot brownies still hold the same reputation and, with research over the years, may possess therapeutic benefits thanks to the active ingredients in the product.
Since their conception, weed brownies have become a favourite for cannabis users and a popular alternative to smoking marijuana. They are a discreet and convenient way to consume marijuana.
Moreover, pot brownies can be customized to appeal to individual preferences and dietary restrictions. For example, if you prefer vegan or gluten-free options, there's a product for all audiences.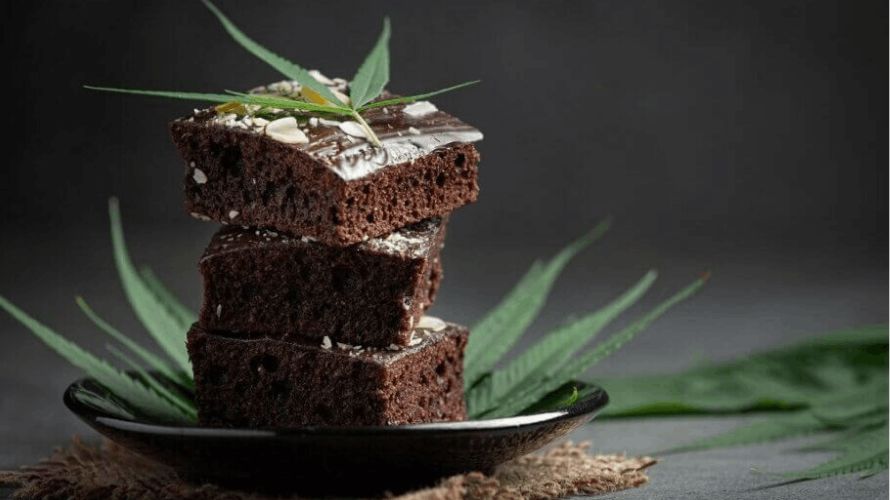 Active Ingredients in Weed Brownies
The active ingredients in a weed brownie heavily depend on the cannabis strain used to make it. 
Cannabis has two main active ingredients: THC and CBD, also known as tetrahydrocannabinol and cannabidiol, respectively. In addition, we have terpenes and flavonoids. 
All these compounds in cannabis work together to cause the various medicinal benefits of cannabis.
Weed terpenes have a myriad of therapeutic benefits that promote the medicinal properties of cannabis.
In addition, we have the chocolate ingredient that is believed to enhance the effects of marijuana. Cocoa powder/ chocolate contains substances that may mimic cannabinoids by increasing anandamide levels. 
Anandamide is a lipid that binds to cannabinoid receptors and hence may mimic the psychoactive effects of cannabis. As a result, you may get enhanced effects with a chocolate marijuana product. 
Moreover, products made for medicinal purposes, such as elevating mood, may have lower weed doses by combining it with chocolate.
However, in this case, for any product labeled weed or pot brownies, the main/ active ingredient is THC. 
How THC Interacts With the Brain and Body
THC is responsible for the high or psychoactive effects associated with a marijuana brownie. 
When THC enters the body, it binds to the cannabinoid receptors in the brain and central nervous system. These receptors are a part of the endocannabinoid system, which plays a vital role in regulating various physiological and cognitive processes, such as appetite, pain, mood, and memory. 
For example, when THC binds to cannabinoid receptors, a series of chemical reactions triggers to release dopamine. Dopamine is a neurotransmitter associated with pleasure and reward. Hence, the release of dopamine produces euphoric and relaxing effects akin to consuming weed brownies.
The combination of all of these compounds, THC, chocolate, and terpenes, is what makes pot brownies a one-of-a-kind product that every cannabis enthusiast should try.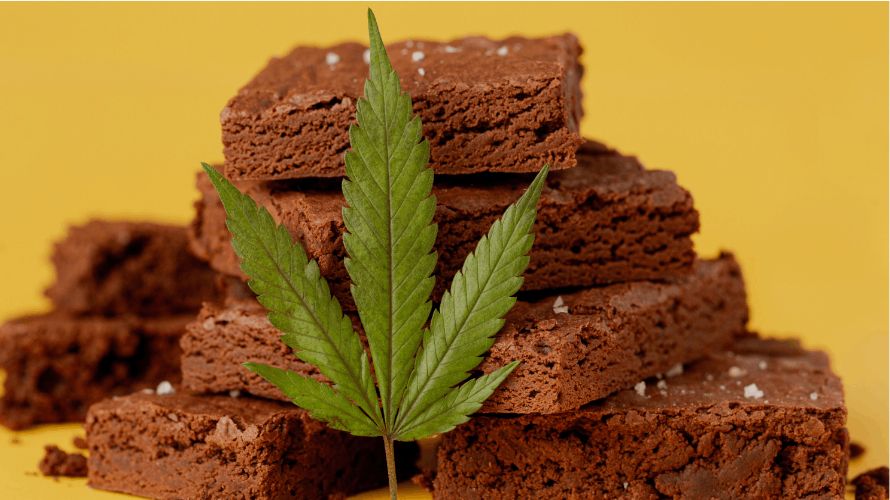 Top Tips to Get the Most Consuming Weed Brownies
Weed brownies aren't as complicated in procedures for their consumption to reap their benefits. 
However, there are a few things you may need to grasp to get a deluxe experience using them.
How Do You Consume Weed Brownies?
You can either eat the entire pot brownie or cut it into pieces. Each method produces different results. 
When you divide it into portions, you are likely to consume less THC than if you took the entire chunk. Taking a full serving means consuming a high THC content all at once.  
Its advisable to start with a small dose and build up to avoid being overwhelmed by the effects.
How Do You Dose Weed Brownies?
To calculate the dosage, first determine the potency of marijuana used in the recipe. 
The potency is measured in milligrams of THC per gram of marijuana, and it varies depending on the strain. 
Once you deduce the potency, calculate the total amount of THC in the recipe and divide it by the number of servings to determine the dosage per serving. 
Dosing can be challenging with home-baked brownies. However, online weed dispensaries sell dosed brownies that can help you meet your dosage requirements
How Do You Measure the Bodily Effects of Pot Brownies?
The effects of weed brownies are specific to every user. Its effects depend on the dosage, method of consumption and user's tolerance. 
For example, a high dosage may induce undesired/ overwhelming effects for a novice user but is quite average for an experienced user. 
As with any cannabis product, start small and increase dosage gradually as you measure for the desired effects.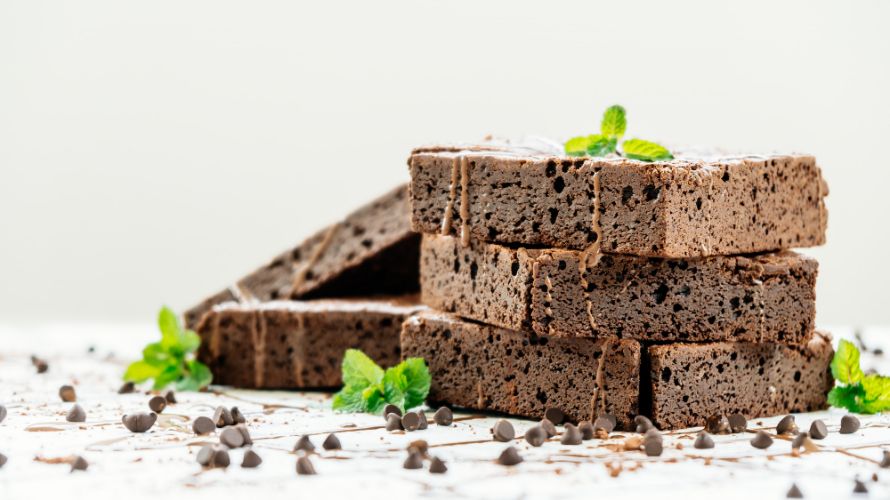 How Do You Avoid Overconsumption of THC Brownies?
The effects of weed brownies are felt between 30 minutes and two hours after consumption. It is best not to eat any more brownies within this time frame and wait for the effects to manifest. 
The beauty of weed brownies is that their effects can last for up to 8 hours. The extended duration of its effects may be helpful for those dealing with anxiety and chronic pain. 
The effects come in slowly but persist longer than other consumption methods.
Furthermore, weed brownies purchased from weed dispensaries in Canada provide the dosage of their products. This may help you regulate and monitor your THC consumption.
How Do I Know the Psychoactive Effects of a THC Brownie?
There are three main THC-dominant strains; Indica, Sativa and Hybrid. Indicas are known for their sedative effects as inducing sleep and relaxation. 
On the other hand, we have Sativas. They are famous for their energizing effects, promoting creativity and an uplifting mood. 
Finally, we have hybrids. Hybrid strains contain both Sativa and indica traits. They are made to cancel out each strain's extremes and provide more appealing effects. 
Always be keen on the packaging of your marijuana brownie. The dominant strain and potency are normally indicated on it. Hence you can make a more informed decision based on the effects you are targeting.
Where Do I Get Quality Weed Brownies?
Weed brownies are a standard product in online weed dispensaries in Canada. Be sure to purchase the product from a reputable dispensary that has your safety in mind. 
Then again, you can make marijuana brownies at home; it's not as complicated. However, determining the dosage can be difficult and hence should be done with caution.
In a nutshell, the dosage and method of consumption are crucial factors in determining the effects of weed brownies on the user. With proper dosing and consumption, weed brownies can be a safe and enjoyable way to consume marijuana.
Alternative Products To Weed Brownies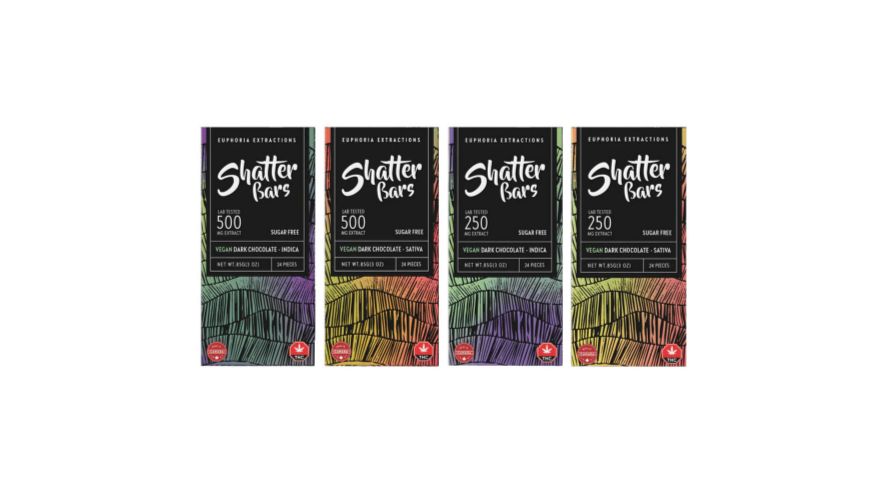 1. Euphoria Extractions- Shatter Bar – Vegan Dark Chocolate:
If you are looking for delicious and uplifting in a single pack, you should most definitely try Euphoria Extractions- Shatter Bar. 
The product is a fusion of the highest quality Belgian chocolate and premium cannabis extract. The shatter bar comes in various concentrations, such as 250mg, 500mg and 1200mg, evenly divided into 24 squares. 
Hence, every delicious square is a portion of the overall THC content in the product. This allows you to consume moderately and enjoy the benefits of THC. 
The shatter bar is sativa dominant. Therefore you may expect energizing and anxiety-reducing effects.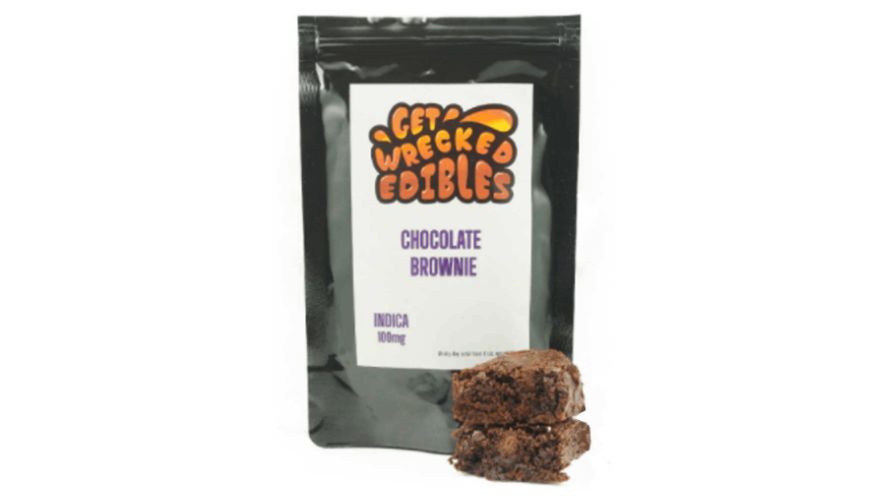 2. Get Wrecked Edibles – Chocolate Brownie 100mg THC (Indica)
A good way to relax after a tough day and get some proper shut-eye may include a Get Wrecked Edibles – Chocolate Brownie dessert.
This premier product is indica dominant, which is famous for its soothing effects. The product is easy to dose; cut in half and get about 50mg THC per serving; have four equal quarters to lower the dosage more.
Moreover, the product tastes good and is jam-packed with THC's therapeutic and recreational benefits.
Get Weed Brownies From Chronic Farms Weed Dispensary
The advent of online dispensaries has made weed brownies. With weed dispensaries you can buy weed online conveniently and that's safe for consumption. 
Weed brownies are a delicious treat that deliver all the goodness of cannabis in a discreet and convinient way.
Chronic Farms source the best product for its clients and deliver them to your doorstep by mail order anywhere in Canada. Looking forward to trying this amazing product? Contact us today to make an order.