Unveiling The Origins Of Gorilla Glue Weed: A Fascinating Journey
The Gorilla glue strain has captured the attention of the cannabis community due to its unique characteristics and effects. 
The Canadian cannabis strain market has seen a paradigm shift in the availability and access to different exotic strains. 
Online dispensaries in Canada provide a platform to conveniently and discretely buy weed online. 
The Gorilla glue strain is a household name in the cannabis community and online weed dispensaries. 
Originally bred in the United States, the strain possesses an interesting origin story and features. 
In this article, we will explore the Gorilla Glue strain's distinctive characteristics, such as its appearance, aroma and effects on users. 

Gorilla Glue Strain Origin
The Gorilla glue strain also known as "GG4" or "Original Glue, " is a potent Indica dominant strain. 
It packs a heavy-handed euphoria and relaxation that leaves you "glued" to the couch.
Its indica-to-sativa ratio is at 60/40, amounting to a sedative cannabis strain. 
The strain has gradually risen in stardom, being a two-time 2014 winner of the High Times Cannabis Cup in Los Angeles and Michigan. It also won the 2015 Jamaican Cup. 
Gorilla glue weed was created by crossbreeding the strains Chem's Sister, Chocolate Diesel and Sour Dubb. 
Chem's sister strain is an Indica hybrid that delivers a long-lasting, strong head high that makes users feel relaxed and happy. 
Chocolate Diesel strain is a potent sativa hybrid famous for its euphoric buzz and sweet candy aftertaste on toking its buds. 
On the other hand, the Sour dubb strain adds a unique twist. 
Sour dubb is a hybrid weed strain with a sweet candy, pepper, and gasoline scent with hints of citrus and an overtone of skunk. 
The parent strains contributed to the Gorilla Glue weed's genetic makeup, giving rise to one of the most sought-after BC bud online. 
The trio also gives the strain a distinctive aroma and flavour to the delight of cannabis users who buy weed online. 

Gorilla Glue Weed Appearance and Aroma
Gorilla glue strain is celebrated for its exceptional and distinctive characteristics.
Its visual allure is an eye candy for most. Its buds are dense and tightly packed, displaying a striking contrast of vibrant green leaves and fiery orange pistils. 
The buds also contain a dense layer of frosty trichomes that cover the surface of the buds. 
They give the buds a shimmering, almost crystalline appearance, a testament to the strain's potency. 
Gorilla Glue Weed aroma and flavour are a true sensory delight. 
You are likely to be greeted by a pungent and earthy scent with hints of pine and a subtle citrusy undertone on opening a bag of nugs.
Breaking open the nugs releases a diesel-like fragrance. 
When smoking Gorilla glue cannabis, you may expect a combination of earthy and sour flavours with a touch of pine and woodiness hitting your nostrils. 
The complex aroma and flavours crowned by its visual allure make Gorilla Glue weed a delightful strain for users who buy weed online. 

Gorilla Glue Cannabis THC Level
Gorilla Glue THC levels average between 20-25%. The THC levels contribute to the irresistible Gorilla glue effects. 
The strain's cannabinoid levels give it some pretty hard-hitting effects. Hence, it's advisable to take caution, especially for new users.
Go slow while consuming the strain, measuring the effects with every puff to lower the chances of experiencing any side effects. 
Dosing weed flowers is not easy but manageable. 
You may opt for other Gorilla glue weed products like edibles and concentrates, which are available at an online dispensary in Canada.
The strain's rich terpene profile further propels the appeal and body effects.

Gorilla Glue Strain Terpene Profile 
For users who order weed online, the terpene profile of strains is an important factor to take note of before making a purchase.
Terpenes are aromatic compounds in cannabis that contribute to its aroma and flavour. 
Terpenes also contribute to Gorilla Glue's effects on users both recreationally and therapeutically.
Gorilla Glue cannabis terpenes include.  
Caryophyllene is an abundant terpene in the Gorilla glue strain. This terpene contributes to its spicy and woody aroma.
It's also a common terpene in plants like rosemary, hops and cloves. 
It's a common ingredient in food additives and perfumes. 
The terpene also boasts some potential therapeutic benefits as an antioxidant and anti-inflammatory.
These properties, according to research, make it a key potential element to boost wound healing. Topical application of the terpene drug initiates various mechanisms that help reconstruct the skin. 
The terpene also has potential as an analgesic and antimicrobial. 
Limonene is the terpene responsible for the citrusy flavour of strains at an online weed dispensary. The flavour is also common in plants like oranges and lemons.
Limonene has a tangy flavour known for its uplifting effects. 
The terpene is a common ingredient in cosmetics, food additives and medicine.
It has been shown to possess anti-inflammatory, antioxidant and disease-preventing properties. 
Limonene has demonstrated potential action in combating osteoarthritis, a condition characterized by chronic inflammation. 
Short-term inflammation is beneficial as it is the body's natural response to stress. Chronic inflammation, however, is dangerous and a cause of various diseases. 
Moreover, limonene reduces nitric oxide production, which plays a key role in inflammatory pathways. 
Linalool is another abundant terpene in the Gorilla Glue strain with a sweet and spicy tropical scent. 
The terpene is also described as giving off a floral scent. Hence its presence in plants like rose and lavender. 
Linalool is a common component in aromatherapy essential oils. Moreover, it's believed to be one of the oldest sleep aids. 
The terpene is thought to have soothing properties that help relax the body and mind. These properties give it an edge in combating anxiety symptoms and perceptions of stress. 
Moreover, it has sedative effects that may help calm an overactive nervous system. 
Hence, it can help ease muscle tension, normalize blood pressure, and facilitate better sleep. 
Linalool also has potential benefits as an anti-inflammatory, supporting a healthy immune system and soothing irritated skin.

Gorilla Glue Effects and Medical Benefits 
Users that buy weed online in Canada love Gorilla Glue weed for its powerful yet balanced euphoria followed by deep relaxation. 
It's an online weed dispensary bud that users purchase to enhance mood and creativity, inducing an overall sense of happiness. 
Gorilla Glue cannabis' potency makes it a potent strain that both experienced and novice users should consume with caution. 
This strain is a good nighttime strain, courtesy of its sedative effects. Smoking the bud may make you want to curl up and fall asleep. 
However, its Sativa presence will first induce a moderate euphoria and body high. It will keep you awake yet relaxed, good for unwinding after a tough day. 
The strains also boast some potential medicinal benefits:
Pain Management:

Its full body relaxation can benefit those with chronic pain conditions like muscle spasms, migraines and muscle spasms. 

Stress and Anxiety:

Moderate consumption of Gorilla glue cannabis may help reduce stress and anxiety symptoms. 
It may calm racing thoughts and induce a sense of tranquillity. 
Appetite stimulation:

Those dealing with appetite loss due to medical conditions and treatment like chemotherapy may benefit from Gorilla Glue effects. 
Consuming it may induce the "munchies," which can help increase appetite and promote healthier eating habits. 
Insomnia:

This is a condition plaguing most Canadians. 
Users buy cannabis online for its sedating properties. Gorilla Glue may help manage insomnia and promote healthier eating habits. 
Gorilla Glue Weed Products Available at Chronic Farms Online Dispensary Canada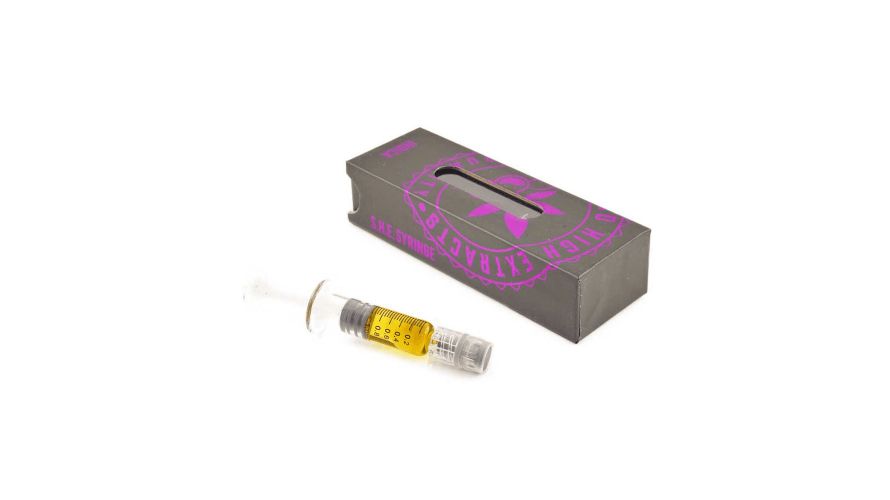 Gorilla Glue Weed Distillate 
Distillate is a THC concentrate for those who appreciate highly potent cannabis products. 
The Gorilla Glue Syringe DIstillate packs a wholesome 95% THC content.
Distillates are made by isolating THC and having it as the only compound present in the concentrate. 
At times, terpenes may be added to the product for a flavourful experience. 
You can vape the oil or consume it sublingually for a unique cannabis experience. 
The product's potency places it as a fast-acting product; hence, consume it with caution.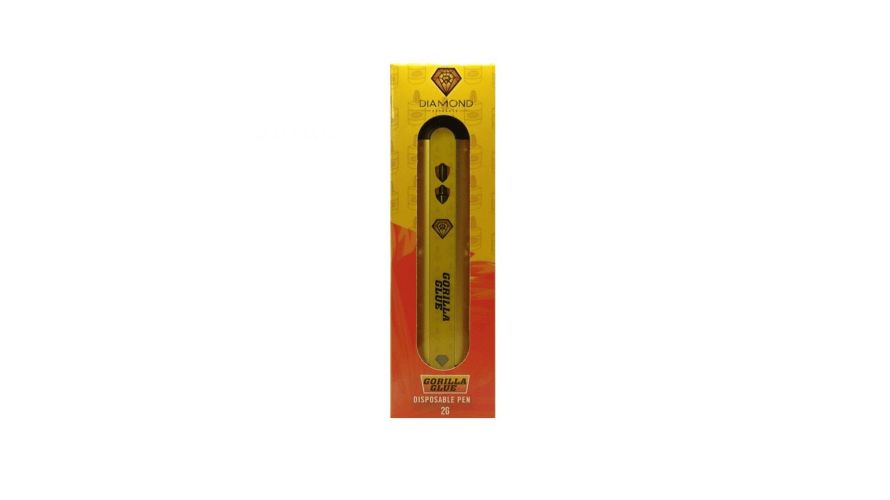 Gorilla Glue Disposable Pen 
The Gorilla Glue Disposable Pen is a quality product by Diamond Concentrates that packs an enjoyable and flavourful high.
Disposable pens are for users who buy weed online in Canada, seeking a convenient and discreet form of consuming cannabis.
It also provides a simple way to dose your weed intake for those who prefer smoking cannabis. 
You can also try Gorilla Glue vape products from our other fan-favourite brands like So High Extracts and Straight Goods.

Enjoy Gorilla Glue Strain With Chronic Farms Online Dispensary Canada
The Gorilla Glue strain stands out as a true icon in the cannabis world. 
Its high THC content and balanced effects offer relaxation, euphoria and relief from various medical conditions. 
You can tap into its benefits by smoking its buds in a joint, bowl or bong. Moreover, you can dab or vape the strain concentrates for a more potent touch. 
Visit our online weed store for premium Gorilla Glue weed products. 
At Chronic Farms, we are an online dispensary in Canada stocking a wide range of premium cannabis products.
Check out our weed store today for affordable weed products in Canada.