OG Shark Strain Review: The Bud That Promises Vicious Attacks On Low Moods & Stress
The OG Shark strain is a perfect bud for everyone who loves a good mystery. You will never be disappointed, as this bud keeps the stories going.
This rare bud's origins are shrouded in mystery, with different stoners coming up with theories about how it came to be. 
While some aspects aren't known to consumers, the OG Shark strain effects are guaranteed. Something that will be clear when you buy weed online.
Its effects and uniquely upbeat smoke make OG Shark one of North America's most sought-after strains. However, it's not easy to find this BC bud online in Canada.
In this OG Shark strain review, we tell you all about this hybrid and where to buy cannabis online in Canada.
If you want to enjoy the delicious effects and benefits of this OG Shark cannabis strain, check out our online dispensary, Chronic Farms.
Our online weed dispensary is known for providing high-quality cannabis products to consumers all over Canada at the lowest prices guaranteed.
You don't have to break the bank for good weed. Whether you are looking for the rare strains or the classics, order weed online at the best mail-order cannabis dispensary in Canada today.

What is OG Shark Strain?
While cannabis strains can be named after anything, animals and even people, some names are more intimidating than others. What do you expect from a strain named after the most vicious marine animal?
OG Shark is a rare and mysterious cannabis strain that is widely popular in Canada despite being one of the hardest-to-find buds.
This strain's origins are contested, and it is unclear who bred it. However, this OG Shark strain review uncovers some of its mysteries so you can make an informed decision when you buy weed online in Canada.
Some cannabis enthusiasts claim that OG Shark was created through a cross between the classic OG Kush and the potent Great White Shark strains. 
While the first theory seems more plausible, at least going by the name, others believe that OG Shark descended from Diesel and Blueberry genetics. So, where did this strain come from?
That is still up for debate. But you know what isn't? OG Shark THC and potent effects.
OG Shark Strain is known for its high THC content and generally balanced effects, which make it a favourite among those lucky enough to consume it. 

OG Shark Strain History: Genetics
Many strain names, especially for buds created in the 2000s, are usually derived from a combination of their parent strain names. However, this is not always the case.
So, what are the true parents of this powerful bud? Well, it's unlikely that we will ever be 100% sure. But the first theory seems more probable based on its smell and taste.
OG Kush, also known as OGK, is a slightly sativa cannabis strain and one of the most beloved weed buds in the world. This strain is one of the most crossed in history, with many strains, including the infamous Girl Scout Cookies being its descendant.
OGK is a cross between the Hindu Kush and Chemdawg strain. Being one of the most perfect hybrids for all-round use, enthusiasts are always looking for this bud at our online weed dispensary in Canada.
OG Shark's other suggested parent is the award-winning Great White Shark strain. So what is this bud?
Great White Shark, also known as 'White Shark' or 'Peacemaker,' is an extremely potent cross between Brazilian, Super Skunk and South Indian cannabis strains. 
While you probably have never encountered it in an online dispensary, Great White Shark was once a popular cultivar, even winning the Best Hybrid award at the 1997 High Times Cannabis Cup.
White Shark is an indica-leaning hybrid with an 80% to 20% indica to sativa ratio. Its THC level is considered moderate, averaging 15 to 21%, but its effects are heavy.
As a descendant of these cannabis strain heavyweights, it is easy to see why many enthusiasts are after the OG Shark strain. But how does it compare to its parents? Here's the detailed OG Shark strain info and review.

OG Shark Review:  Appearance, THC, Aroma and Flavour 
Appearance
OG Shark strain's nugs tend to be oblong and may appear cylindrical, depending on how you view them. 
Being a hybrid, the buds are not too dense like typical indicas and not fluffy like sativas. However, they are a good size and feel solid to the touch.
OG Shark strain has a beautiful mix of colours that make it attractive. The nugs are largely green but have purple patches, especially when grown in the colder seasons. 
Fiery orange hairs twirl around the bud, adding to the colour show. However, the real star of the show is the heavy blanket of crystalline trichomes that cover the entirety of the bud, giving it an icy or sugary look depending on the lighting.
OG Shark Fragrance
This strain has a very pungent aroma. Opening a jar full of high-quality OG Shark strain buds will blow you away with a strong diesel scent.
You will also notice sweet, earthy aromas, blueberry notes, and spiciness. These aromas intensify as you break the flower apart to prepare a joint or bowl. 
Sparking up this bud will fill your room with an unmistakable mouth-watering aroma, setting the mood for an enjoyable cannabis experience that this nug promises.
Be warned, this strain has a strong smell that lingers hours after you are done smoking it. This may not be it if you are looking for something more discreet.
OG Shark Strain Info: Flavour
OG Shark's flavour is more like its fragrance. The taste is generally pungent and is mixed with sweet earth and bits of spice and berries.
The dominant notes are diesel and berries, so some believe it's a cross between Diesel and Blueberry strains. 
You may notice hints of earthiness and sour pine on the exhale. To enjoy its delicious flavour, ensure that you only buy weed online at our cannabis dispensary in Canada to ensure quality and effectiveness.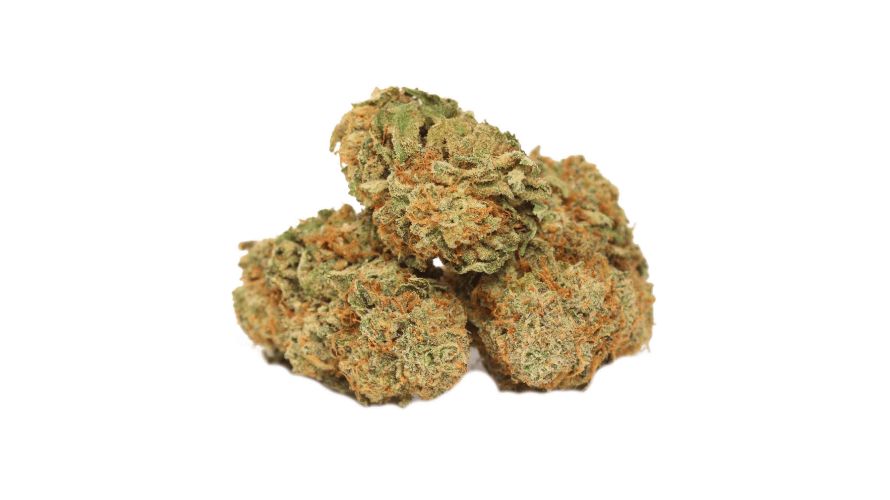 OG Shark's Terpene Profile
This bud has a robust terpene profile responsible for its delicious flavour and fragrance. The three most dominant terpenes in this strain are linalool, myrcene and caryophyllene.
These terpenes are also responsible for some of its effects and benefits through what is known as the entourage effect.
The entourage effect is a mechanism through which cannabis compounds such as terpenes and flavonoids work synergistically with cannabinoids to provide a greater effect.
Linalool, myrcene and caryophyllene have been studied by researchers and have been shown to have potential therapeutic benefits, including pain-relieving, anti-anxiety, anti-inflammation and antioxidant properties.
OG Shark THC Levels
OG Shark THC concentration is one of its biggest selling points. This strain averages between 25% and 30%, which makes it one of the most potent buds in Canada.
Most OG Shark buds easily exceed 27% THC, which can only mean one thing: caution is needed when using this bud. 
Use this strain in moderate amounts to avoid being overwhelmed. This strain contains very low amounts of CBD and CBN. 
OG Shark Strain Effects
This strain is highly regarded by those who have tried it because of its impressive potency and effects. So, how does OG Shark make you feel?
OG Shark is a pretty well-balanced bud, providing the best of both indica and sativa effects.
However, its cerebral effects are incredibly strong, suggesting it may lean towards sativa genes. Smoking OG Shark will have you feeling like you have been shot into space, soaring through complete euphoria.
The effects are upbeat during the initial stages. You may start feeling a boost in creativity and focus, but it is not exactly energy-boosting. 
As time passes, a nice body relaxation sets in, blowing out the stress that may be wearing you down and pushing you deeper into the couch.  The bud will then drag you into a blissful sleep.
This strain is also used by medical marijuana patients who consume it for managing conditions such as nausea, chronic pain and relaxation.
OG Shark is also said to help melt away stress and depression, and the relaxation may help fight insomnia, allowing you to catch some much-needed rest.
However, due to its incredibly high potency, this strain may cause anxiety, paranoia, cottonmouth and other side effects when overconsumed. 
Experts recommend starting with a low dose and gradually adjusting it to fit your needs.

Buy OG Shark Weed Online in Canada
OG Shark strain is a happy cannabis bud that is consumed by many for its ability to improve mood and promote positive thoughts even on slow days. But where can you order OG Shark weed online?
If you are looking to order weed online, look no further than Chronic Farms, the best mail-order marijuana dispensary in Canada. 
Our online dispensary offers hundreds of strains, from rare ones such as OG Shark to the classics such as this AAAA Pineapple Express, at the lowest prices, guaranteed.
Whether you are looking for BC bud online, edibles, concentrates or vapes, we've got them. Order weed online today and experience the Chronic Farms difference.