A Guide to Using a Distillate Pen: The Best-Kept Secret to Discreet Vaping
Are you looking for a guide to help you become an expert in using distillate pens? If so, you've struck gold!
In this comprehensive guide, we'll walk you through everything you need to know about distillate pens, from choosing the right one for your needs to using it correctly and maximizing your vaping experience.
Intrigued? Check out the tips and tricks in this guide – they will take your distillate pen game to the next level.
Speaking of taking things to the next level, we're excited to feature the highest-rated and best distillate pen in Canada, available at our online dispensary, Chronic Farms. Trust us, you won't find a better option out there.
Learn how to use a distillate pen like a pro with minimal effort! Let's begin.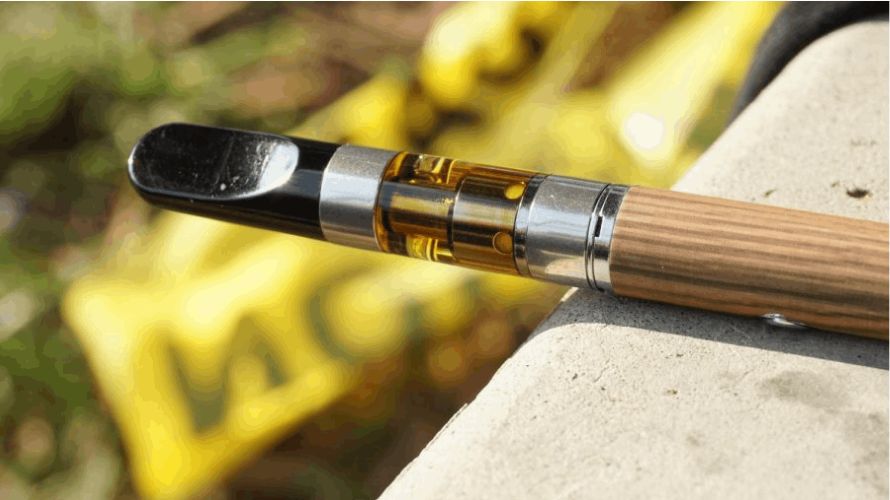 What is a THC Pen?
As you might already know, THC, or delta-9-tetrahydrocannabinol, is the main psychoactive compound in weed that is responsible for making you feel "high" and intoxicated. 
Namely, THC binds to cannabinoid receptors in your nervous system and brain, leading to a range of extraordinary effects such as altered perception, relaxation, stress and pain relief.
A distillate pen, on the other hand, refers to a device that is used to vaporize THC distillate, which is a highly potent type of weed extract. 
It is highly purified to remove impurities and other compounds. 
What makes them so good and worthwhile?
Well, distillate pens offer a convenient and discreet way to consume THC, and are often preferred by users who want to avoid the harshness of smoking or the lingering smell of traditional marijuana use.
While you can find a weed pen at most better-equipped cannabis stores, we recommend purchasing one from our online dispensary in Canada, Chronic Farms. 
Here are three reasons why.
First, our online dispensary offers a wide range of premium cannabis products, including distillate pens, so you can find the perfect product to suit all your needs and desires.
Second, Chronic Farms is the best online weed dispensary with the most affordable prices. We believe that everyone should have access to high-quality cannabis products without breaking the bank – Broke stoners included!
Finally, we offer quick and discreet shipping, so you can enjoy your weed vape today. 
We understand that privacy is important to our customers, which is why we ensure that all orders are shipped in discreetly and in a timely manner.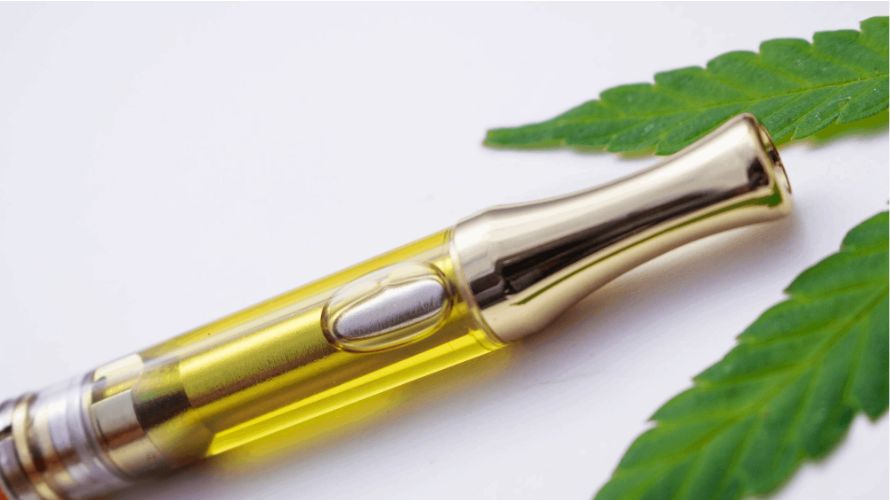 What Makes Distillate Pens Unique?
Everyone in Canada is obsessed with distillate pens, and we can't blame them! These are some of the benefits of using distillate pens:
They are highly convenient

: Distillate pens are compact, easy to use, and don't require any additional equipment. They're perfect for on-the-go cannabis consumption and discreet vaping.

You'll enjoy ultimate consistency

: Unlike traditional consumption methods, distillate pens provide a consistent dose of THC with each hit. Why?
This is because distillate is a purified form of canna oil that's been stripped of all impurities and plant matter. As a result, you get a cleaner, smoother and more potent high.
They're better for your health

: Distillate pens eliminate the need for combustion, which can produce harmful carcinogens and toxins that are linked with smoking. So, distillate pens are deemed healthier than traditional smoking methods.

They're super customizable

: Distillate pens allow stoners to customize their cannabis experience by choosing from a variety of strains and flavours (not to mention cool device designs!). 
You are free to experiment with different blends and find the device of your dreams.
There are two types of distillate pens: reusable and disposable.
Reusable distillate pens can be easily refilled with distillate oil once they run out. 
Typically, reusable THC pens have a rechargeable battery and come with a replaceable cartridge that you can screw off and on. These pens are great for people who use cannabis frequently and want to save money in the long run.
On the flip side, disposable distillate pens are pre-filled with oil and are designed to be used until they run out. Once the oil is gone, you can throw away the entire pen. 
Disposable THC pens are perfect for occasional stoners who don't want to invest in a more expensive reusable pen.
Which one is better? 
According to the experts, it depends on your personal preferences and how often you plan to use a THC pen. 
For example, if you're a heavy user and want to save cash, a reusable pen might be a better option.
If you're an occasional pot user and want something more convenient, a disposable pen might be the way to go. Regardless of which one you choose, you can find them at our online dispensary, Chronic Farms.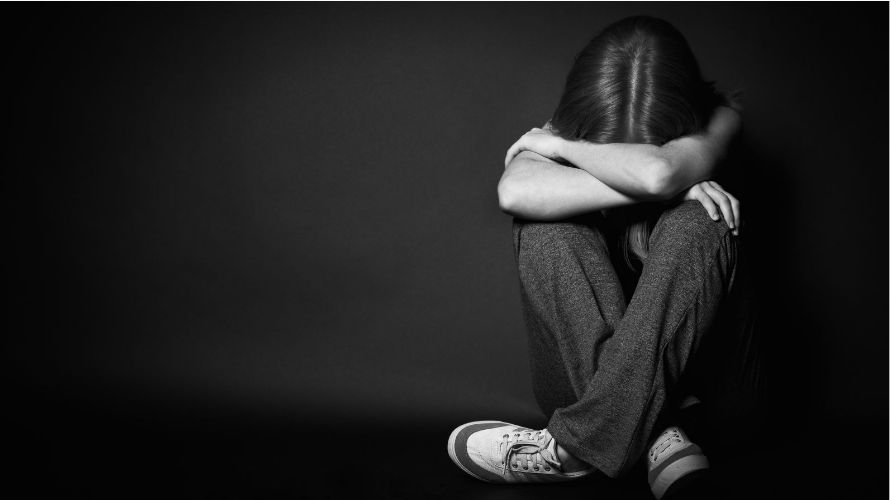 What are the Recreational and Medical Effects of THC Pens?
If you desire a discreet and potent way to enjoy cannabis, THC pens are the way to go! 
Whether you're a medical user seeking pain relief or a recreational user looking for a quick and easy way to get high, THC pens offer a range of benefits. 
This is what you need to know about the effects.
Recreational Benefits of THC Pens:
THC pens are discreet and fool-proof, making them perfect for use in public or around others who may not be comfortable with smoking.

The effects of THC pens are more immediate and potent than other forms of weed consumption, providing a strong and almost instant high.

With a variety of alluring flavours and strains available, THC pens allow for a more personalized experience.
Medical Benefits of THC Pens:
THC pens can help alleviate pain. Use them if you are struggling with acute and chronic pain, migraines, headaches, and arthritis.

THC pens can help alleviate symptoms of anxiety, mild to moderate depression, and other mental health conditions.

THC pens have been found to reduce nausea and vomiting associated with chemotherapy and other treatments. These devices may also be suitable for people dealing with bulimia and anorexia, as they can increase your appetite.
What does being high on a weed pen actually feel like? 
Stoners say that it is a euphoric and relaxing experience that can enhance your mood and senses. 
Of course, the effects of THC pens can vary depending on factors such as dosage, strain, and individual tolerance. Always start with a low dosage and slowly increase as needed to avoid any unwanted side effects like red eyes or cottonmouth.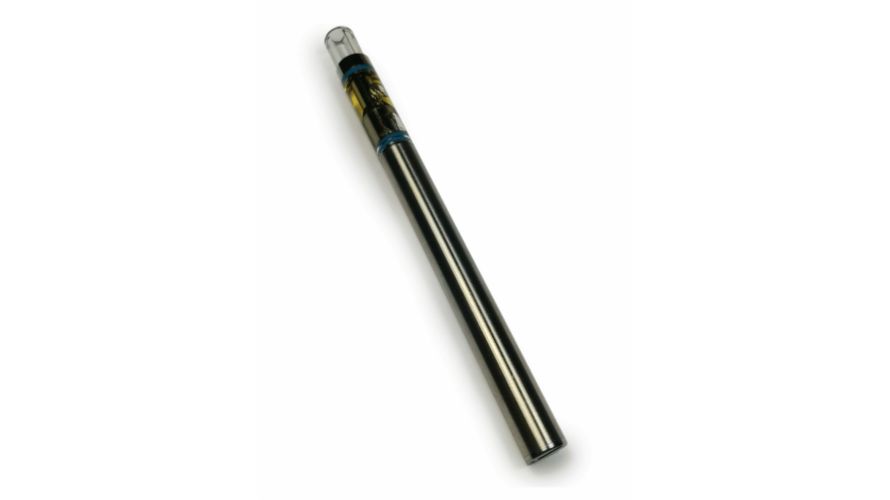 How Do You Use a Distillate Pen Correctly?
Using a distillate pen is a simple and fun way to reap the benefits of cannabis, even for beginners. To get started, here's a step-by-step guide:
Charge your THC pen

: Before using your distillate pen, make sure it's fully charged using the USB charger provided. The LED light on the pen will indicate when it's fully charged.

Attach the cartridge

: Once charged, attach the cartridge to the battery by screwing it securely onto the battery.

Turn on the distillate pen

: To turn on the THC pen, press the button on the battery a few times. Check the instructions that came with your THC pen to see how many times you need to press the button.

Inhale

: Press and hold the button on the battery while inhaling slowly from the mouthpiece. Take steady draws to avoid overheating the cartridge.

Adjust dosage

: If you're using a distillate pen for the first time, start the minimal dose and gradually increase if required. 
As a bonus, here is an expert hack to enhance the vaping experience:
Preheat the cartridge. To get the most out of your distillate pen, activate the preheat function by pressing the button on the battery a few times until the LED light starts flashing. This will warm up the oil in the cartridge, making it easier to draw. 
After a few seconds, release the button and take your draw. Enjoy!
The Best Distillate Pen in Canada: Get Some Mail Order Marijuana Today
The review of the best distillate pen in Canada is here! Check it out and buy from our online weed dispensary today.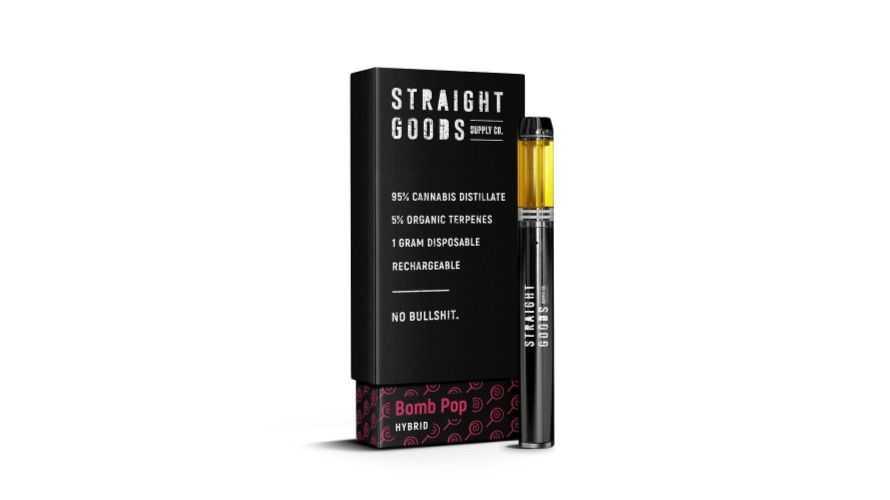 1. Straight Goods – Bomb Pop Disposable (Hybrid)
The Straight Goods – Bomb Pop Disposable (Hybrid) is an excellent option for users looking for a distillate pen with a simple and pure ingredient list. 
This high-quality formula contains only Delta-9 THC distillate and organic plant-based terpenes, without any additional diluents like VG, PEG, PG, or MCT.
The cartridge comes with 510 threading and the latest ceramic core technology, ensuring a smooth and flavourful vaping experience with controlled airflow. 
Additionally, the 1ml cartridge size means you'll get plenty of use before needing a replacement. 
Use this weed vape any time during the day to ward off anxiety, stress, and tension. Buy weed online and get down to vaping for just $39.99.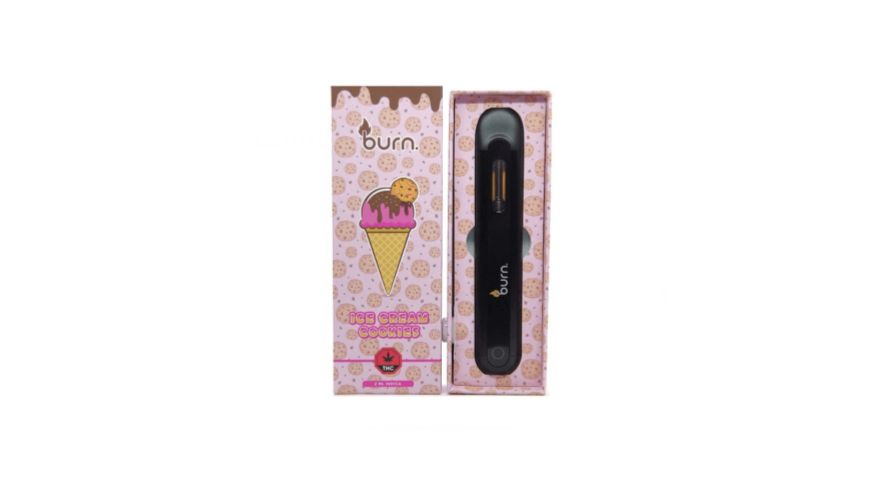 2. Burn Extracts – Ice Cream Cookies 2ML Mega Sized Disposable Pen
The Burn Extracts – Ice Cream Cookies 2ML Mega Sized Disposable Pen is a must-try for cannabis users who enjoy indulging in sweets and candy. 
With a massive 2ml or 2grams of pure, locally sourced distillate, this top-selling distillate pen is worth the price point. 
The pen comes in a variety of 13 delicious strains, including the popular Ice Cream Cookies strain. 
Moreover, the battery is already included, making it super convenient and easy to use. 
If you're looking for a flavour-packed and potent distillate pen that satisfies your sweet tooth, then the Burn Extracts – Ice Cream Cookies 2ML Mega Sized Disposable Pen is it! 
Buy weed online and taste one of the yummies distillate pens for as low as $41.99, only at Chronic Farms.
Buy Weed Online Now
Let's start shopping for your first distillate pen! Check out Chronic Farms, the best online dispensary in Canada and choose between the most impressive collection of delectable and addictive vapes. Buy weed online today and get to puffing!