An Online Weed Dispensary Guide on the Most Effective Way to Store Shatter
You don't want your cannabis concentrates to go bad, so learning how to store shatter is crucial. 
We're here to help you save money and get the experience you are looking for. 
In this comprehensive guide, you'll uncover the best way to store shatter so you can enjoy the most decadent and powerful cannabis concentrates every time. 
On top of that, you'll learn where to buy shatter online in Canada safely. 
Because let's face it – cannabis concentrates are extremely powerful. So, knowing where to shop is key to ensuring that you receive the best quality products on the market. 
Choose Chronic Farms, the best weed dispensary in your area. Buy shatter in Canada from this dispensary and indulge in the finest products the cannabis world has to offer.
That said, here is how to store shatter the right way.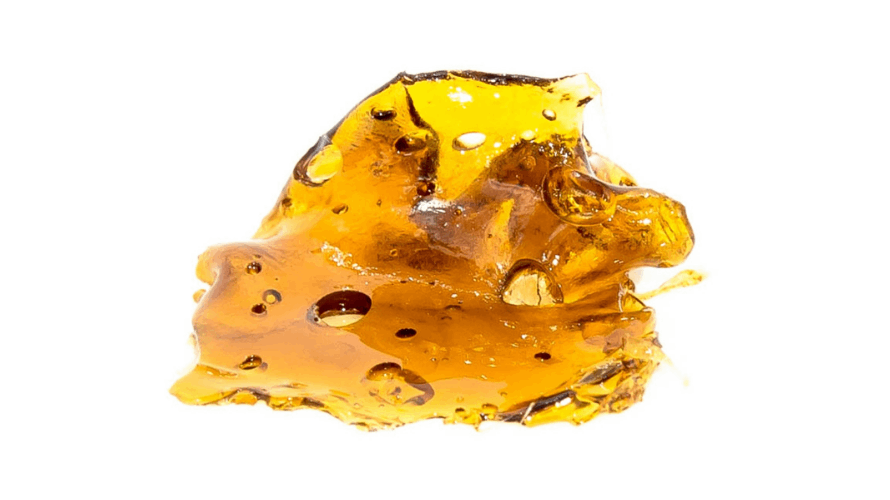 What is Shatter Weed?
Before you buy shatter online in Canada, you may have a few questions that need to get answered. 
First of all, what is shatter weed? 
In brief, shatter is a powerful cannabis extract (a cannabis concentrate type) that is brittle and resembles glass in appearance. 
As you may have guessed, shatter weed got its name from its high breakability (just imagine glass snapping in two!). 
Similar to other popular cannabis concentrates, shatter weed is one of the top choices for dabbing lovers. 
Buy shatter in Canada if you want a taste of one of the most psychoactive concentrates out there. It is created using a blend of solvents and cannabis plant matter. 
Appearance-wise, shatter weed is usually translucent with a colouring that ranges from vibrant amber to a darker shade of yellow. 
When it comes to consistency, most shatter products look like they are the same consistency. 
However, the texture of specific cannabis shatter products may vary – some have a taffy-like consistency, while others are incredibly brittle. 
Interestingly, shatter weed that is high in THC (tetrahydrocannabinol or the psychoactive compound in weed) will usually have more oil or sap. 
On the other hand, shatter that has higher THCA levels (tetrahydrocannabinolic acid) is much more glass-like and brittle.
If you want to buy shatter online, you may also come across some products claiming to have high CBD levels and low THC. Yes, that's possible too. 
Generally, shatter with high CBD content is aimed at users who are seeking the possible therapeutic and medicinal benefits of weed without the psychoactive THC effects.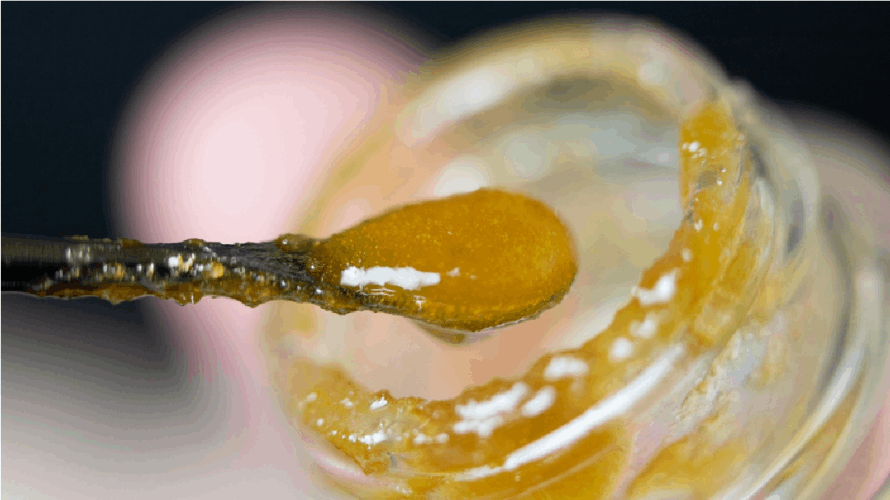 Are Dabs & Shatter The Same Thing?
Another common question of consumers planning to buy shatter online is: "Are dabs and shatter the same thing?". 
Technically, the terms dabs and shatter can be used interchangeably. All shatter weed is suitable for dabbing, but not all dabs are considered shatter. 
For reference, dabbing is one of the most popular consumption methods that include the use of a dab rig (a special water pipe). Other cannabis concentrate forms can be dabs, not only shatter.
Dabbing shatter weed and other potent concentrates will provide you with a mind-blowing, long-lasting high. 
You'll also enjoy a more intense terpene-rich aroma and flavour, compared to smoking weed. 
Of course, we always recommend mindful and responsible cannabis use, especially when dabbing shatter extracts for the first time. 
Since shatter is a highly potent cannabis extract with elevated THC levels, it is best to start with the lowest dose and only increase it if necessary. 
Make sure to always purchase cannabis concentrates from reputable sources such as Chronic Farms, Canada's number one online weed dispensary. 
Unlike a standard pot store, Chronic Farms makes sure that all products are effective, potent, and completely safe. 
Plus, you'll get to save a fortune on value buds. Yes, you can get cheap weed when you know where and how to shop correctly. Buy shatter in Canada from Chronic Farms and thank us later.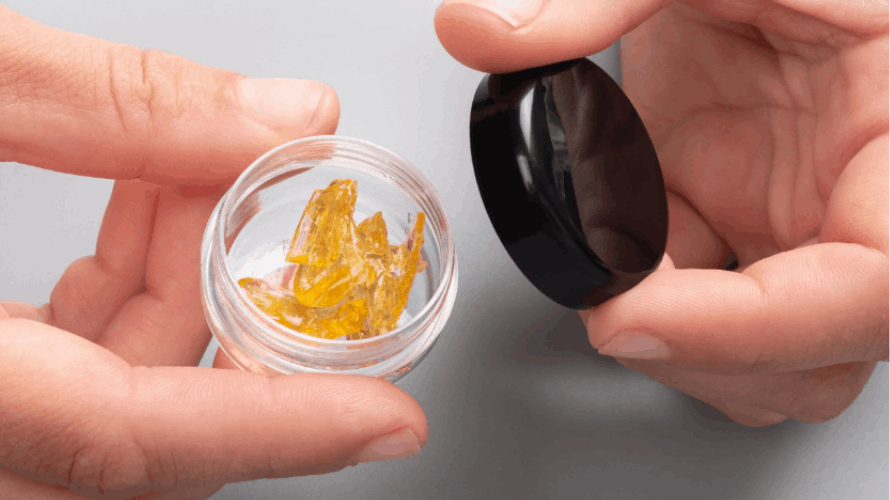 How to Store Shatter Correctly
This is the best way to store shatter, according to expert stoners. If you are looking for a short-term storage option (up to one week), experts recommend storing the shatter using parchment paper. 
You'll want to spread out the extract on the parchment paper and then gently fold it to cover the shatter entirely. 
Ensure that you cover the shatter compactly, leaving zero room for air. 
For added protection, users say that the best way to store shatter is to place the bundle in a high-quality, child-proof bag. 
When storing the shatter for up to a few weeks, you will want to start with the first method, and then place the bundle into a sealed container. 
You can place the wrapped-up shatter into a jar or seal it in a bag. 
Whether you are keeping the shatter bundle for one or more weeks, you will want to make sure that the package is in a dry and cool place, far away from direct sunlight. If you are in a warm climate, it is best to keep the shatter bundle in a fridge. 
But, how to store shatter in the fridge? Firstly, you can freeze it. This method is excellent if you are looking for a long-term storage option. 
All you need to do is to wrap the shatter with parchment paper and put it into a glass jar. 
Finally, you will want to vacuum-seal it. By doing this, you will prevent humidity from reaching the extract and possibly damaging it.
Here are some additional tips on how to store shake for shatter:
Use the highest-quality storage materials.

Use sterilized containers to avoid contaminants from getting into the product.

Choose child-proof storage containers if you have kids.

Protect the shatter from the light by choosing opaque containers.
Buy Shatter in Canada: The Best Products from Our Weed Store
You are all set to buy shatter. The products featured below are the best of the best, and they are all available at our online dispensary, Chronic Farms. 
Pick and choose one and find out why stoners in Canada can't get enough of them. Check out the in-depth reviews first.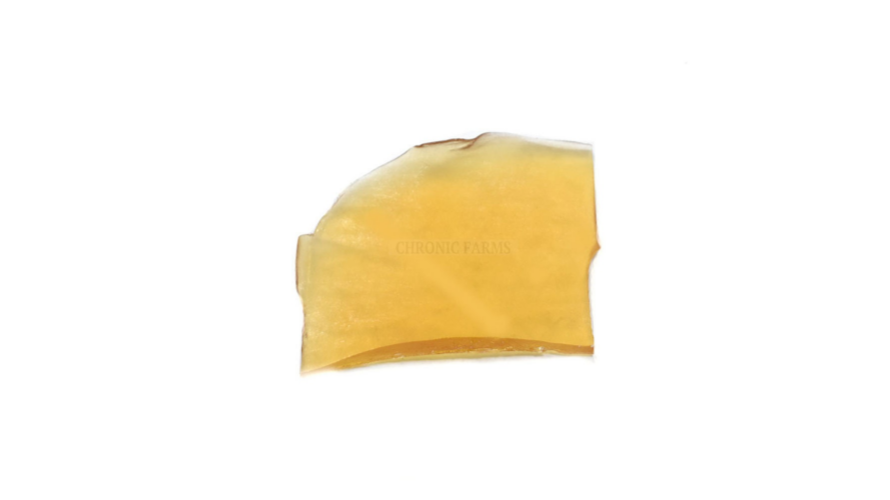 Acapulco Gold – Shatter
Treat yourself to professional-grade cannabis extracts and taste the Acapulco Gold – Shatter today. This shatter features the infamous Sativa-leaning hybrid, notorious for its decadent flavour and high THC levels. 
On average, you get 24 percent of THC and a whole lot of therapeutic benefits. 
According to consumers, Acapulco Gold is perfect for increasing energy levels and sharpening focus. 
Use Acapulco Gold – Shatter to feel motivated, productive, and conquer the day. The effects are almost instant and eternal. 
Buy shatter online today from Chronic Farms for only $9.99.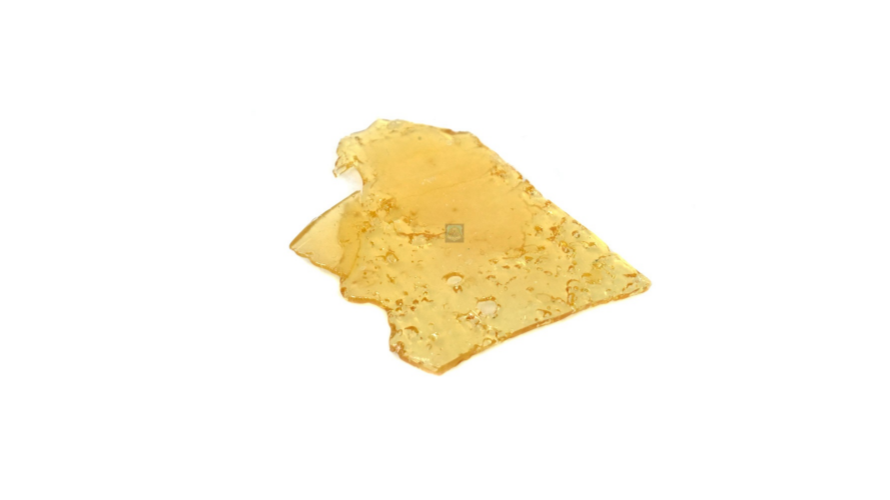 Afghani – Shatter
If you are an Indica enthusiast, you will find the Afghani – Shatter finger-licking. This shatter features the iconic Afghani strain, a powerful Indica hybrid. 
The intense flavours and aromas of earth and sugar will satisfy all sweet cravings. 
Best of all, both recreational and medical cannabis users will benefit from Afhgani's impressive stress and anxiety-relieving abilities. 
Medical patients can also use this strain to treat pain, inflammation, and sleep disorders like insomnia. 
Buy Afghani shatter online in Canada today for a mere $9.99.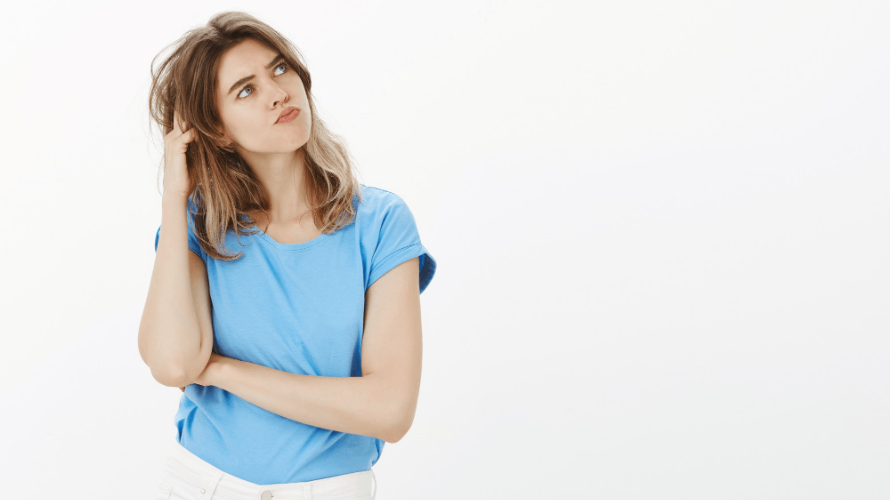 Why Should I Buy Shatter?
There are many reasons why you want to purchase shatter weed. Above all, consumers choose shatter for its high THC levels. 
On average, you can expect anywhere from 80 to 90 percent of THC. 
Compared to regular cannabis flower (that's around 30 percent of THC), this cannabinoid content is monstrous. 
Extracts like shatter will appeal to expert cannabis users and true weed connoisseurs. 
Here are some benefits of using cannabis extracts like shatter:
They are rich in cannabinoids and terpenes.

Possible anti-inflammatory properties.

Possible treatment for chronic diseases like heart disease, diabetes, autoimmune disorders (such as Crohn's disease), and cancer.

Possible treatment for migraines.

Possible treatment for Alzheimer's.

May assist in regulating vomiting and nausea (especially in chemotherapy patients).

Provides pain relief (especially in patients with multiple sclerosis).
Cannabis in general has also been shown as an effective mood regulator and anti-anxiety agent. 
Consuming high-quality cannabis can also help with stress, tension, and sleep disorders such as insomnia. 
If you are planning to treat a serious health condition with weed, make sure to talk to a medical professional first. 
Your healthcare provider will give you expert advice and dosage recommendations. 
You may also benefit from the help of a knowledgeable budtender at your favourite dispensary.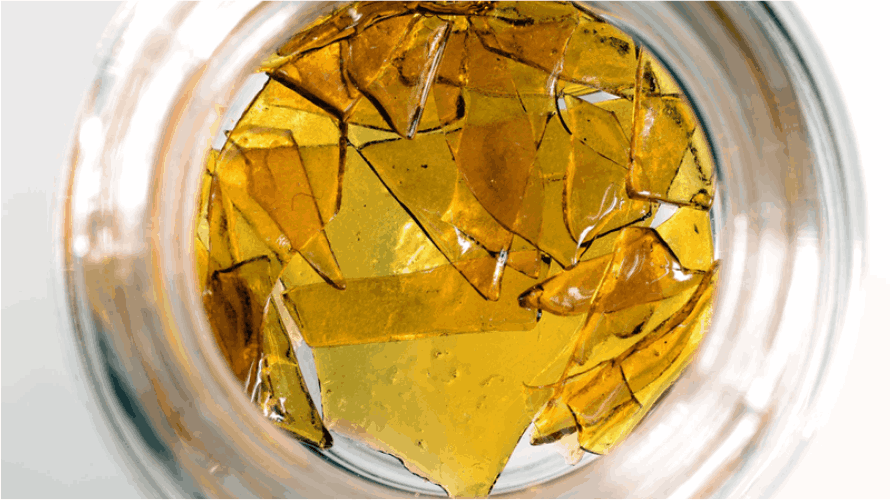 FAQ
How to store shake for shatter?
Keep your shatter wrapped up tightly in parchment paper. For the long term, we recommend storing the extract in a jar in the fridge. Make sure to keep it away from direct sunlight. 
How to store shatter in the fridge?
You'll want to avoid moisture by storing the shatter bundle in a glass jar. Make sure the jar is clean and sanitized. 
What is the best way to store shatter?
The best way to store shatter is to keep it wrapped in parchment paper.

Ensure that there are no edges peeking out, as this can introduce contaminants and air. Store the shatter in a cool and dark place, away from direct sunlight.
Where can I buy shatter online in Canada?
You can find shatter in most online dispensaries. However, not all dispensaries are created the same.
What is the best place to buy weed online?
Now that you are aware of how to store shatter, your next step is going shopping!

Buy high-quality concentrates and many other exclusive cannabis products from Chronic Farms, Canada's top source for everything weed. 
Purchase mail order marijuana today and get the best strains delivered to your doorstep in the blink of an eye.