Vape Your Way to a Higher State of Mind With Weed Pens From Our Online Dispensary
Upon popular demand, here it is, the ultimate guide to weed pens! 
If you're eager to learn about these trendy and convenient devices, then you're in the right place. 
This comprehensive guide will reveal all the secrets and must-know facts about weed vape pens, their effects, and how to use them correctly. 
We'll also take a look at the benefits of using a weed pen, so you can decide whether it's the right option for you. 
On top of that, you'll discover the safest ways to buy weed online every time, ensuring that you have a seamless and hassle-free experience.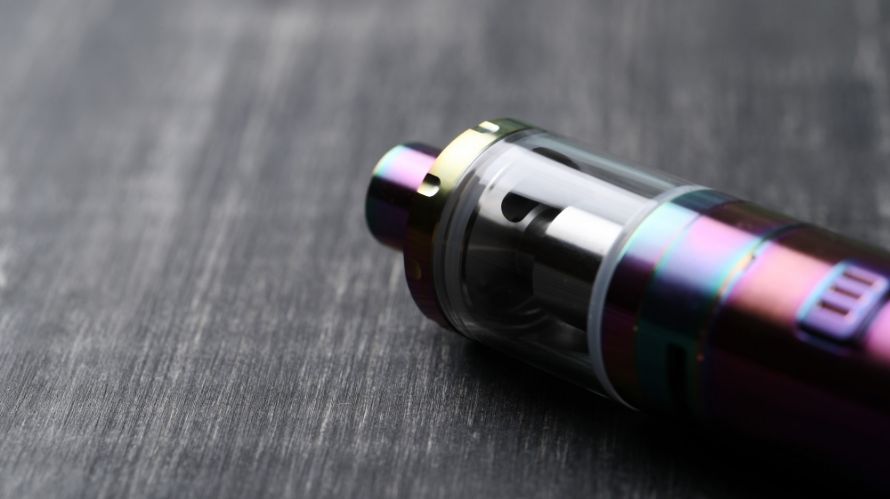 What are Weed Vape Pens?
Weed vape pens, also known as marijuana or THC vape pens, are useful electronic devices that vaporize concentrated cannabis oil. 
Thanks to these devices, you can inhale the psychoactive compound THC without smoke and its possible side effects (stoners with sensitive throats will understand what we mean!).
As you can imagine, these weed pens are becoming increasingly popular among stoners who want a discreet and convenient way to consume their favourite herbs.
What other perks do weed pens offer?
Well, one of the main advantages of using a weed vape pen is that it delivers a potent and immediate high that is stronger than smoking flowers or using edibles. 
Additionally, vape pens are more discreet, portable, and easy to use than traditional methods of smoking weed.
But how much THC is in a weed pen? 
The truth is that the concentration of THC in a vape pen can vary depending on the brand and type of cartridge used. 
However, most cartridges contain between 50 to a mind-blowing 80 percent of THC, which is significantly higher than the average THC content of dried flowers.
Also, the devices come in a variety of shapes, sizes, and fun, eye-catching designs, making them perfect for on-the-go use. 
Furthermore, vape pens offer stoners a customizable and controlled vaping experience, allowing them to adjust the temperature, dose, and flavour of their oil.
Interested?
If you're looking to buy weed vape pens or exclusive strains like Gods Green Crack, then shopping at a reliable and well-equipped online dispensary is the best option. 
Check out these three factors when choosing the best online dispensary for your THC needs:
Powerful and safe products

: Ensure that the online dispensary carries high-quality and lab-tested products that are free from unwanted ingredients and contaminants.

Impressive product selection

: Look for an online dispensary with a vast selection of strains, carts, and accessories.

Affordable prices and bundle deals

: Check for competitive pricing and special deals on your favourite products to save a fortune!
Last but not least, always look for an online dispensary that offers quick shipping and discreetly packaged mail order marijuana so that you can enjoy your weed pens without any hassle or worry.
The waiting is over, buy a weed vape pen in Canada today!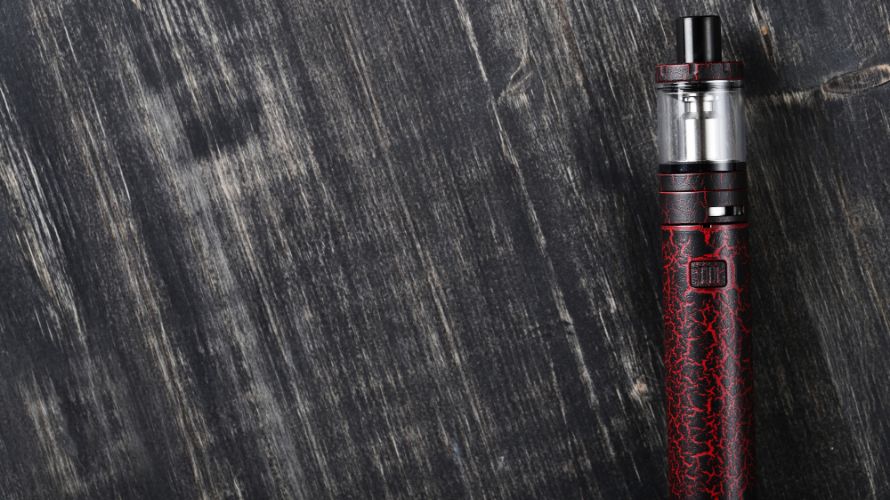 What is the Benefit of a Disposable Weed Pen?
Disposable weed pens are one of the best options for potheads who want an easy and convenient way to consume canna. 
These weed pens come pre-filled with cannabis oil. Also, you won't need to do anything special to maintain or charge them up – when you're done, just replace them.
One of the top benefits of a disposable weed pen is how easy to use it is.
Unlike traditional vaporizers, disposable pens are tiny and compact – this makes them easy to carry around and discreetly use when out in public. Additionally, they are typically dirt cheap, making them a great choice for broke stoners.
Another advantage of disposable weed pens is that they come pre-filled with cannabis oil, so you don't have to worry about measuring or refilling the cartridge. 
Beginners who are new to vaping or users who don't want to deal with the hassle of refilling and cleaning a traditional vaporizer will love this!
However, make sure to buy disposable weed pens from a reputable online dispensary to ensure the quality and potency of the product. 
Look for an online dispensary that has a proven track record of providing only high-quality, lab-tested products to ensure that you get the best possible experience.
What is a Weed Pen Cartridge?
In short, a weed pen cartridge is a small container filled with canna oil that is designed to be used with a weed pen or vape pen. 
These cartridges or "carts" come in a variety of delicious flavours, potencies, and strains, allowing stoners to customize their vaping experience. 
Also, many carts are created with high-quality, lab-tested cannabis oil – you can expect a life-changing trip!
What are Weed Pen Refills?
Once you use up all of the oil in your carts, you can refill it with your preferred strain or canna oil flavour. This process is typically straightforward and involves unscrewing the empty cart and replacing it with a new one or adding new oil to the existing cartridge. 
Weed pen refills are an excellent way to save money and enjoy a customizable vaping experience.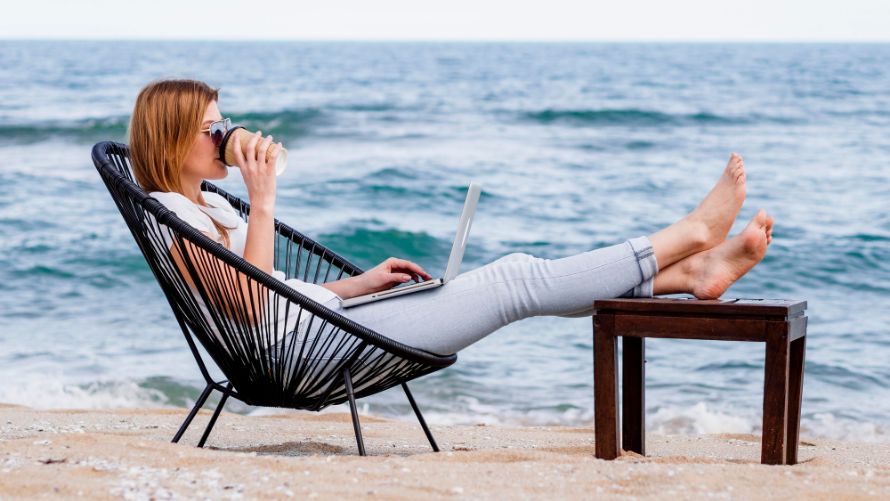 What are the Effects of Weed Pens?
Being high on a weed pen is like taking a relaxing vacation from reality. 
It feels like a wave of euphoria washing over you, making everything feel more vibrant and enjoyable. 
Depending on the canna strain, you may experience a range of physical sensations, such as a soothing body high or a cerebral buzz that leaves you feeling energized, focused, and creative.
But weed pens aren't just for getting stoned and watching Netflix. 
In fact, inhaling weed can also have a range of potential medical benefits. 
For example, medical patients can use cannabis oil to alleviate acute and chronic pain, reduce anxiety and moderate depression, and ease symptoms associated with chemotherapy and other treatments.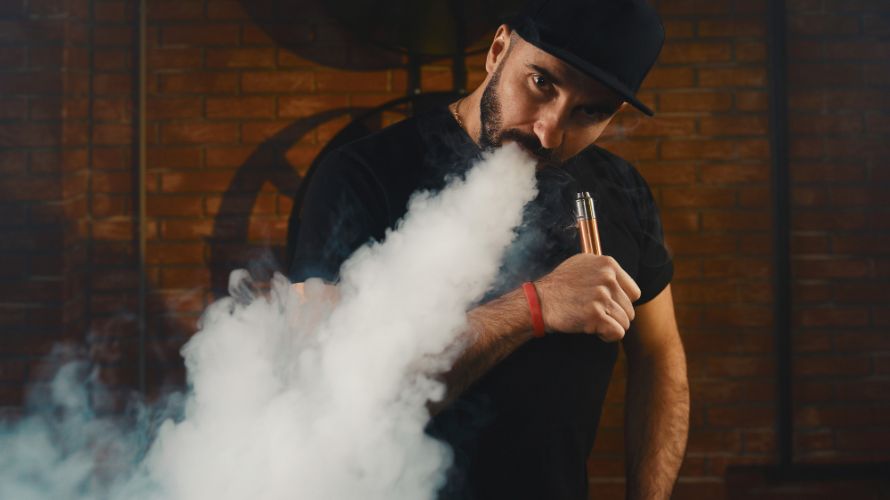 How Do You Use a Weed Pen: Tips and Hacks
If you are a beginner new to weed pens, keep reading for the best tips on the internet! Also, if you're a seasoned expert, we've got a little hack for you too.
For all the newbies out there, here's a beginner-friendly tip – start with a low dose. 
Just because it's a weed vape pen doesn't mean you should go all out right away. 
Take a small hit and wait a few minutes to see how it affects you. You can always take more later, but you can't un-smoke what's already been smoked.
Another thing to keep in mind is to take slow and steady draws. 
Remember, this is not a race, and you don't want to cough your lungs out! 
Instead, take a slow inhale for a few seconds, hold it in for a couple of seconds, and then exhale. Repeat until you get the desired effect.
Now, for our expert hack – try different temperatures. 
Most weed pens have adjustable heat settings, so experiment with them to find what works best for you. Higher temperatures will give you bigger hits, but lower temperatures will preserve the flavour and terpenes in your weed.
One more thing, don't forget to charge your pen before using it. 
There's nothing worse than getting halfway through a smoke session only to have your pen die on you. 
When in doubt, we recommend reaching out to an expert budtender at your favourite online weed dispensary for more useful tips. Also, before you buy weed online, it is a good idea to consult with a medical professional.
The Best Weed Vape Pen in Canada to Buy from an Online Dispensary
Here are the best weed pens to buy from an online dispensary. Check out these reviews and buy weed online today!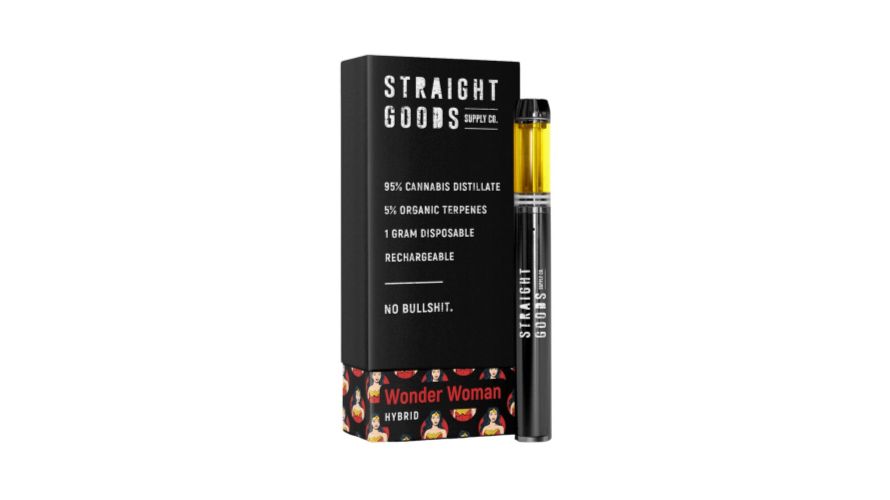 1. Straight Goods – Wonder Woman Disposable (Hybrid)
If you're in the market for reliable and long-lasting weed pens, the Straight Goods Wonder Woman Disposable (Hybrid) may be a match made in heaven!
This product offers a whopping 1g of 95 percent canna distillate and 5 percent organic terpenes, ensuring a monstrously potent and flavourful experience. 
Not only that but the fact that it's fully rechargeable and free of unwanted ingredients like VG, PEG, and MCT only adds to its appeal. 
Potheads can expect a smooth and satisfying high that lasts, making it a great value for the price. 
If you're ready to buy weed online and try this product out for yourself, it's currently available for $39.99.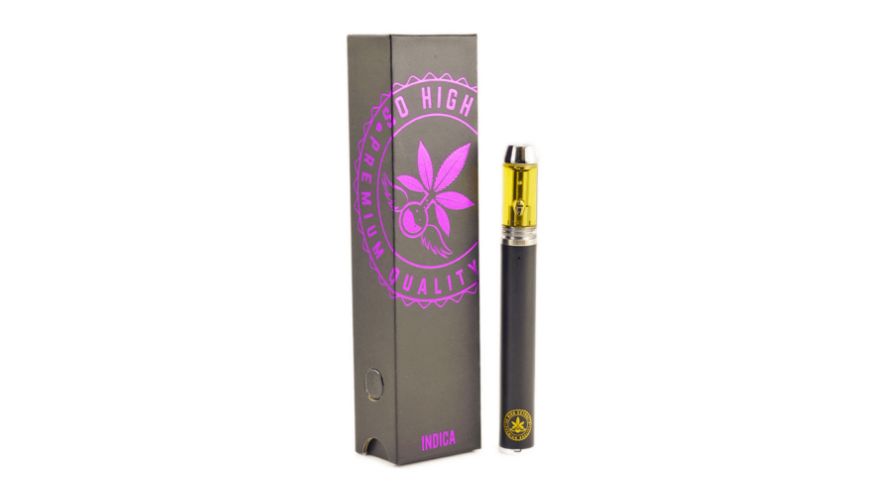 2. So High Extracts Disposable Pen – Bubba Kush 1ML (Indica)
On the hunt for weed pens that can help you unwind and de-stress? 
The So High Extracts Disposable Pen in Bubba Kush (Indica) might be just what you need. 
With 1ML of high-quality cannabis oil, this pen offers a potent and relaxing experience that's perfect for patients dealing with stress, anxiety, or tension. 
Also, f you struggle with insomnia or other sleep disorders, this weed vape pen might just be your new bestie. 
According to reviewers, the Bubba Kush strain is known for its sedative effects, making it an ideal choice for consumers looking to get a good night's sleep. 
Buy weed online like Bubba Kush for only $39.99.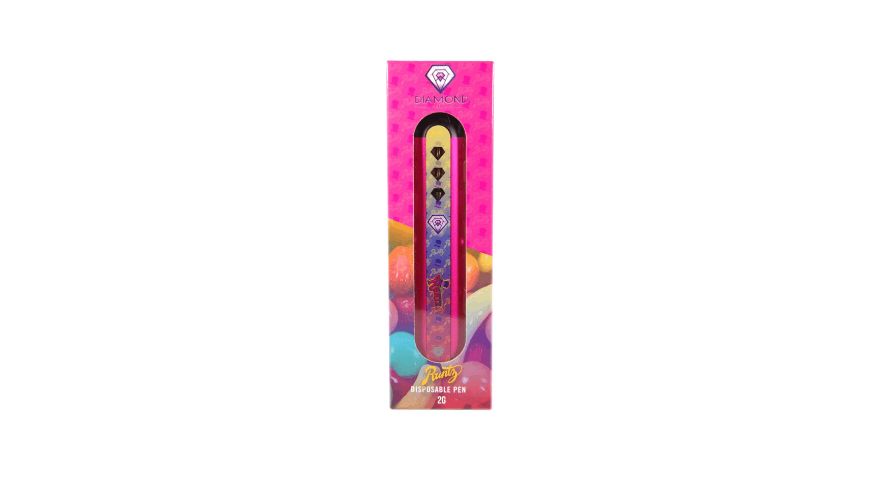 3. Diamond Concentrates – Runtz 2G Disposable Pen
For stoners in search of weed pens that pack a memorable punch, the Diamond Concentrates Runtz 2G Disposable Pen might just be the answer. 
With lab-tested ingredients and a focus on maximum flavour, aroma, and effect, this weed vape pen delivers a potent and satisfying experience that will leave you feeling tranquillized. 
Whether you want to unwind after a long work day or simply relax and destress, the Runtz strain is an unbeatable choice. 
Moreover, since it's a disposable pen, it's perfect for grab-and-go use. 
You can use it any time of day to feel relaxed, tension-free, and happy. Buy weed online like Runtz for $59.99.
Buy Weed Online
Purchase the highest-grade and most inexpensive weed pens from a trusted online dispensary with credibility. 
Buy weed online and taste the best products from the cannabis world! Plus, get some mail order marijuana without leaving the comfort of your home. Hurry up, stocks are limited!