Dab Pen and Shatter Pen: Same Thing, Different Names?
From buying a gram of cheap weed on your local street corner to buying a state-of-the-art dabbing pen at your online weed dispensary. Times have certainly changed for the better! 
With so many new products on the cannabis market these days, it's easy to get hazed, dazed and confused about what's what. 
For example, if you've been wondering about the difference between a dab pen and a shatter pen, you've arrived at the right place. 
Where we all know that all shatter pens and dab pens are essentially vape pens; the difference between a dab pen and a shatter pen may be more obscure. But don't let that confuse you!
Dab pens and wax pens are actually two names for extremely similar devices. 
Actually, the wax pen (also called the shatter pen nowadays) was the original term used for these devices, before "dabs" became more popularized. 
The main difference between these two types of pens is all about the concentrates they use. 
Also, it's simply a matter of using different terminology to refer to the same device that is used for slightly different concentrates. 
Dab pens and wax pens are interchangeable terms, so don't think for a moment that you can't have a dab with a wax pen. 
But to clarify things even more, let's take a look at some proper definitions, below.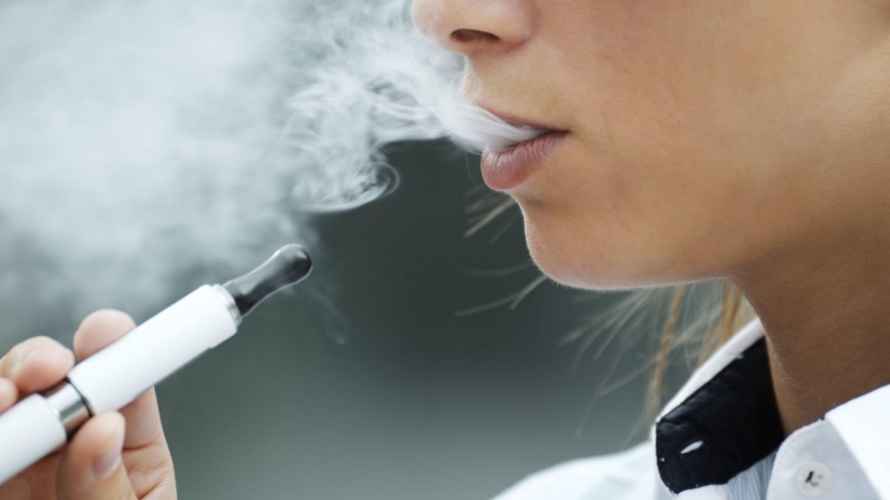 What Is a Shatter Pen?

Shatter pens, also called wax pens, are a popular option for consuming stickier cannabis concentrates like shatter or honeycomb. 
Shatter pens may reach a hotness level of up to 700 Fahrenheit, allowing you to properly heat your cannabis wax or other, thicker forms of concentrates. 
Shatter pens are not recommended or built to vaporize liquid or oil, but rather, are meant for the melting of waxier and sticky concentrates of cannabis.
With that said, a shatter pen is the same as a wax pen – and may even be interchangeably referred to as a dab pen in instances where appropriate concentrates are used. 
Shatter pens, much like other types of pens, consist of a few basic components including a battery, a chamber for heating the concentrate, and a mouthpiece. 
Interestingly, because they require more heating power, shatter pens are often encased in steel to protect users from warm internal temperatures.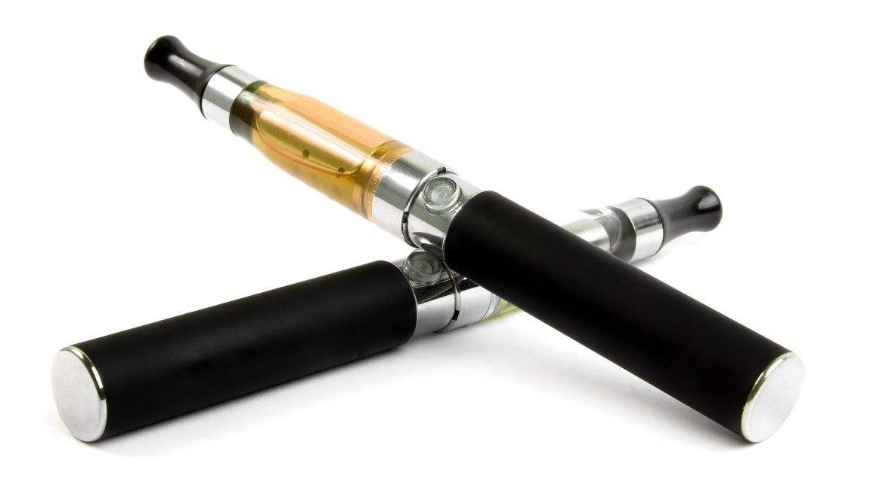 Who Should Buy a Shatter pen/Shatter pens?
Wax pens or shatter pens are best for those looking to up or improve their cannabis dabbing experiences with more personalization. 
Wax pens can provide more temperature control and the option of hotter vaping, and are more suited to thicker or harder cannabis concentrates. 
Ideal concentrates for a shatter pen include your waxier concentrates such as shatter, budder, crumble, crystalline, rosin and wax. 
Of course, a shatter pen is also more than capable of dabbing distillate and live resin. 
To sum it up, a wax pen can literally vape all types of cannabis extracts.

Shatter pens are recommended to users with more experience, though. 
To those interested in having more control, and for those who don't mind committing to a little extra effort in loading and cleaning the device. 
If you want to gain even more dominance over your dabbing experience by being able to measure and load your own waxy concentrates, a shatter pen is exactly what you need.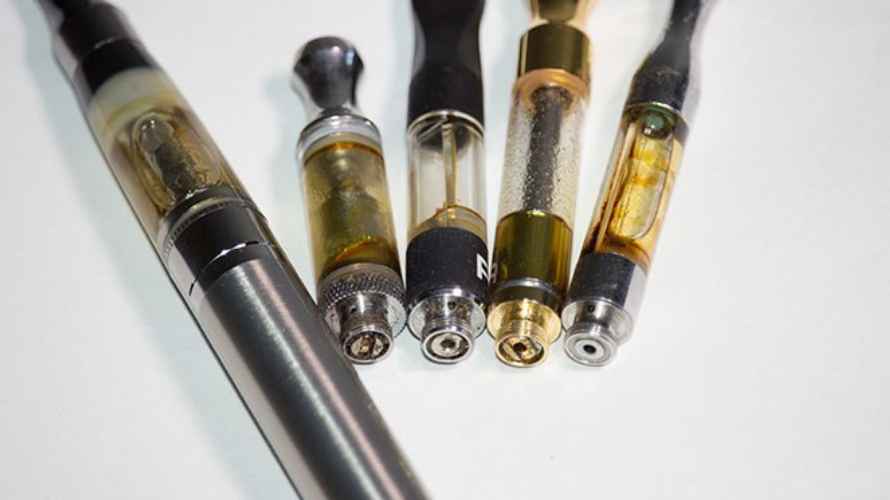 The Pros and Cons of a Shatter Pen
Pros
A shatter pen allows for more control in the loading process.

Shatter pens are effective at vaporizing sticky wax concentrates or pieces of THC shatter.

Wax pens or shatter pens require a little less cleaning than dab pens.
Cons
Requires some knowledge on how to measure, load and clean pen parts.

A shatter pen typically requires hand loading, unless you opt for a disposable shatter pen.
What Is a Dab Pen?
A dab pen can be described as a more advanced form of a vape pen, which is commonly used for dabbing denser cannabis concentrates. 
Popularly called "dabs", all THC concentrates can be effectively "dabbed" with a dab pen.

Dab pens utilize the same components as both vape and wax pens and work exactly the same. Interestingly enough, users, dispensaries and packaging often refer to dab and wax pens interchangeably. 
Simply put, dab pens can perhaps be categorized as a subset of wax pens.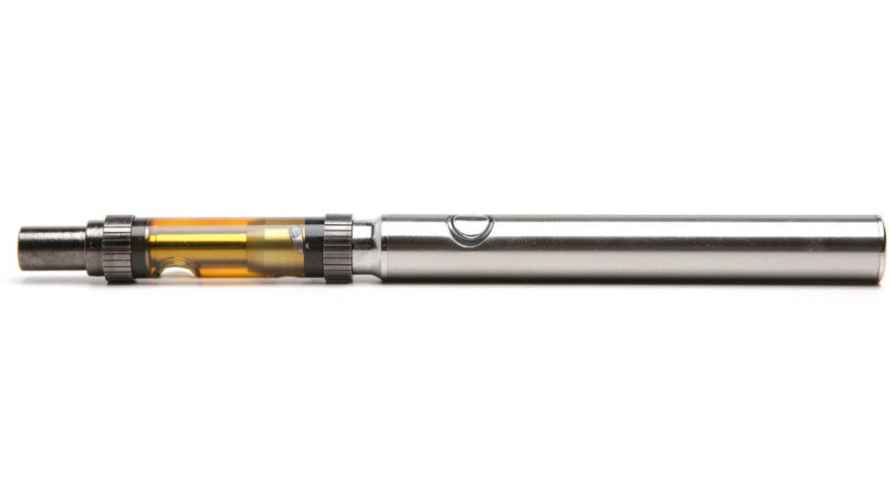 Who Should Buy Dab Pens?
Dab pens are recommended for those looking for a more intense vape, or for those wanting to get into cannabis concentrates other than oil. 
Dab pens are also suited to users with significant vaping experience and those who want a more specific vape experience and hotter temperatures than a usual vape. 
It's recommended to use a dab pen with solvent concentrates including distillate, Live Resin, BHO, and softer types of dabs like budder and wax. 
You should definitely buy a dab pen if you are looking for a smooth and convenient dabbing experience.
The Pros and Cons of Dab Pens
Pros
Provides users with the most control and room for creative choice.

Utilizes dabs that can also be used on a traditional rig. 
Cons
Requires some upkeep and cleaning.

Dab pens could be less discreet as they require hand loading. That is unless you get disposable dabbing pens preloaded with the good stuff.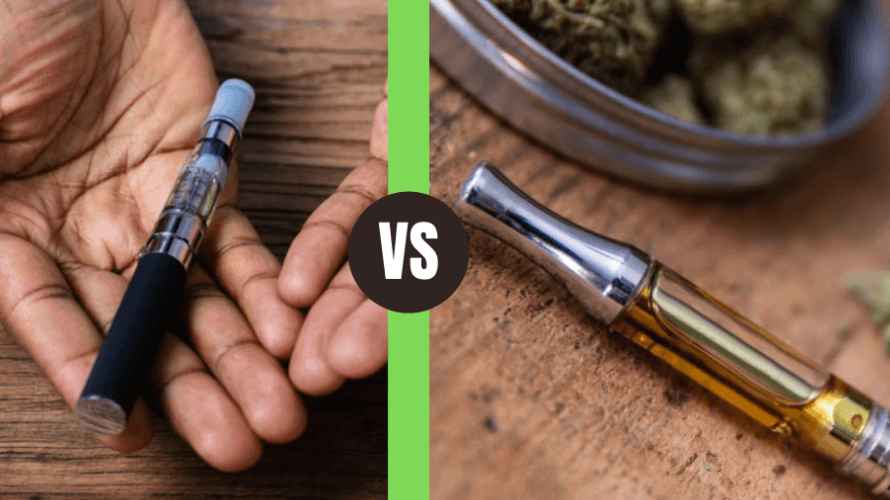 What is the main difference between a Dab Pen and a Shatter Pen?
To make it clear, while every individual type of pen will differ in material, function, and features, at their core, there is no real difference between wax pens and dab pens. 
Both pens have a heating apparatus, an inner coil or wick.

Although sometimes their names are used interchangeably, dab pens can be most accurately defined as a subgroup of wax pens. 
Moreover, we are of the opinion that shatter pens are particularly suited to shatter, while dab pens are most suitable for wax and other dabs.
Best Shatter Pen Canada
Getting a disposable shatter pen can be a great choice if you're looking for something portable and convenient with a real punch in your pocket. 
Disposable shatter pens are affordable and hassle-free.  
Finding the best shatter pen in Canada shouldn't be challenging, as their popularity in the market has exponentially increased over the past two years or so. 
For your convenience, this article has set out to find two of the best shatter pens that are available to order directly from your friendly weed store and/or online dispensary today. 
Our picks for the best shatter pens in Canada are: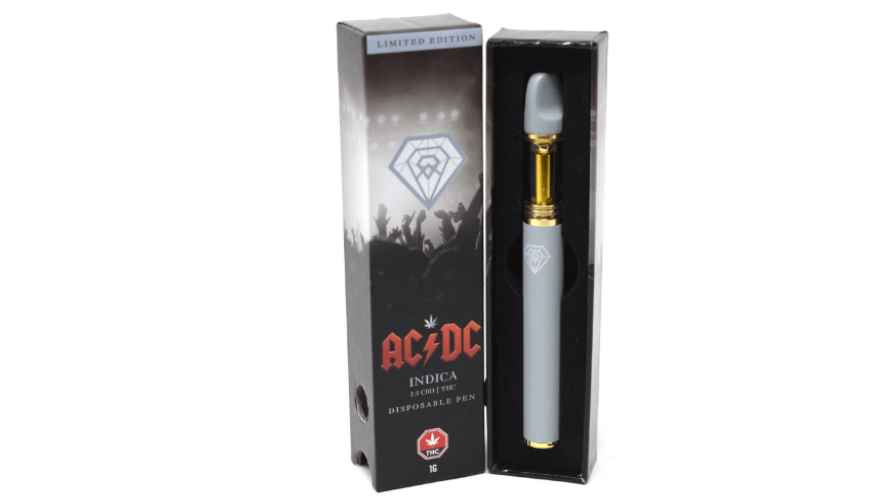 1. Diamond Concentrates – ACDC 1:1 (THC:CBD) (Limited Edition) – Disposable Pen
This powerful disposable "ACDC" shatter pen comes with a screw-off bottom that perfectly hides a Micro-USB charging port for easy recharging. 
Named after the famous band, this pen is sure to keep you puffing conveniently wherever you may roam. 
Loaded with the ACDC distillate with an equal THC:CBD ratio, this pen is sure to keep you happy and lifted for hours.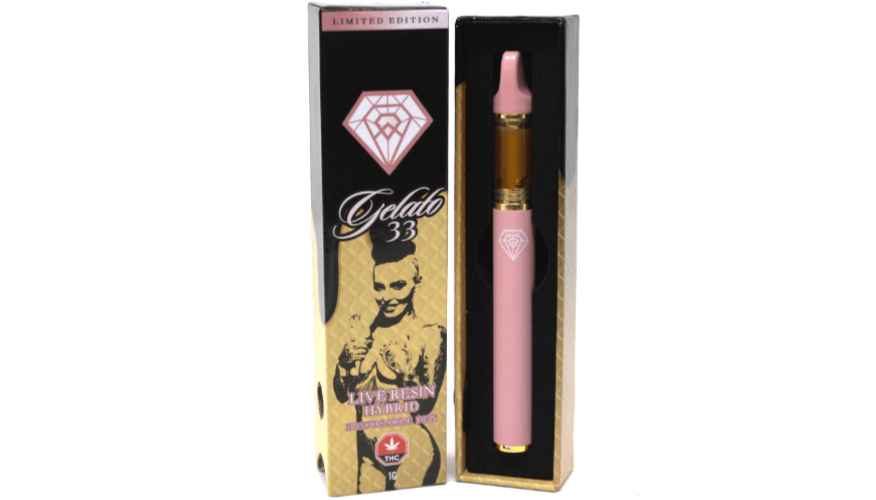 2. Diamond Concentrates – Gelato 33 Live Resin (Limited Edition) – Disposable Pen
This disposable Gelato dab pen comes pre-loaded with the finest hybrid live resin totalling 1G. 
With a Micro-USB charging port, we highly recommend this pen for its convenience and strength. 
Where to buy a dab pen or shatter pen?
You can buy the perfect deb pen or shatter vape pen at your friendly online dispensary or weed store without a hassle.  
At Chronic Farms, we make a point of offering all the best concentrates to enjoy in a disposable pen form. 
Providing the best variety at affordable prices, you are spoilt for choice with the Chronic Farms range of disposable dab pens. 
Get the best dab pen price at your favourite pot store, and keep dabbing in style.
In conclusion: Different (dabbing) Strokes for Different (cannabis) Folks!
While dab pens and shatter pens are the same in mechanism, the terminology used is different in placing a slight distinction between the cannabis concentrates used by these devices. 
Where a shatter pen generally refers to a device popularly used to vape shatter and wax, a dabbing pen refers to a device that's able to vaporize all cannabis concentrates. 
Although the general public might say they are exactly the same thing, this article intends to give a clear answer as to why they might be called differently. 
With the research said and done, deciding between a dab pen or a shatter pen really depends on your personal preferences. That's about all it really comes down to! 
These devices are very similar, and both are sure to take your cannabis concentrate-consuming experience to new heights, either way. 
Remember, you can dab all dabs with a dab pen or a shatter pen – it's really up to you! 
Get the best shatter pens in Canada today from your friendly online dispensary.