Cheap and Yummy: The Best 3 Baked Edibles from Chronic Farms Dispensary
Sugar, spice, and everything that's sinfully nice, that's the recipe for the best baked edibles for 2022. If you're looking for the hottest product currently trending on the market, search no further. 
We've compiled the top three tastiest and most addicting baked weed every stoner with a sweet tooth needs to try. Besides learning about these popular baked goods, you'll also find useful tips and tricks on baking with weed. 
On top of that, you'll uncover some secrets about where to find cheap weed in Canada that's effective, tasty, and most importantly, safe.
Here's a quick hint: Look for a reputable online dispensary like Chronic Farms. 
The countless positive customer reviews speak for themselves. Find out why Chronic Farms is the best weed dispensary in the country. 
So, which baked edibles made the list for 2022? Keep scrolling to find out.
What Are Baked Edibles?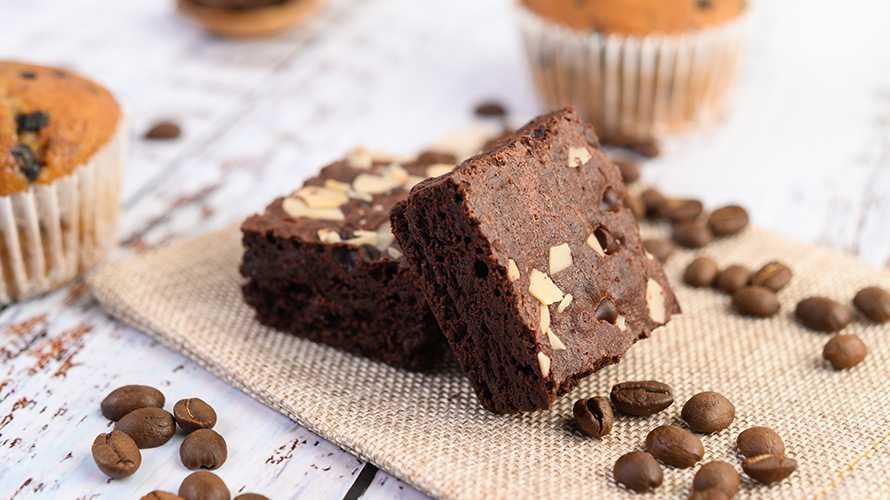 To understand what baked edibles refer to, it's important to start with defining the term "edibles". 
Marijuana edibles are delicious beverages and food products infused with cannabinoids such as CBD (cannabidiol) and THC (tetrahydrocannabinol, the psychoactive compound found in weed). 
These weed products are a fun and convenient way to get your daily dose of marijuana, and they can be used for both medical and recreational purposes. 
Nowadays, you can find a variety of weed-infused baked edibles such as cakes, cookies, banana bread, muffins, brownies, and other mouth-watering delicacies.
Just take a look at Chronic Farms' impressive collection of baked edibles. Check out this pot store for a wide array of delicious goods, from baked edibles to candies, pastries, chocolates, and even syrups. 
When it comes to the nutritional profile of weed edibles, we can compare them to that of hemp oil or hemp seed. 
Keep in mind that hemp is an excellent source of top-quality protein (predominantly edestin and albumin) and other essential amino acids. Thanks to its composition of essential fatty acids, it can help improve heart health and reduce cholesterol levels in the body. 
Consuming baked edibles can help with inflammation, pain, and even mood disorders such as depression. 
Of course, the bioavailability of the cannabinoids will depend on your weight, your metabolism, and whether you have food in your digestive system.
The Best Baked Edibles for 2022
Are you on the hunt for the best weed chocolate chip cookies? What about melt-in-your-mouth chocolate weed bars? Look no further. 
Below, you'll find some of the tastiest and ooey-gooey cannabis chocolate you could imagine. If you're ready to get them, just check out Chronic Farms' website for the best cheap weed in Canada. 
Find out why we're the number one place to get weed online in Canada. Find out which products made the list below.
1. Get Wrecked Edibles – Chocolate Chip Cookies – 300mg – Sativa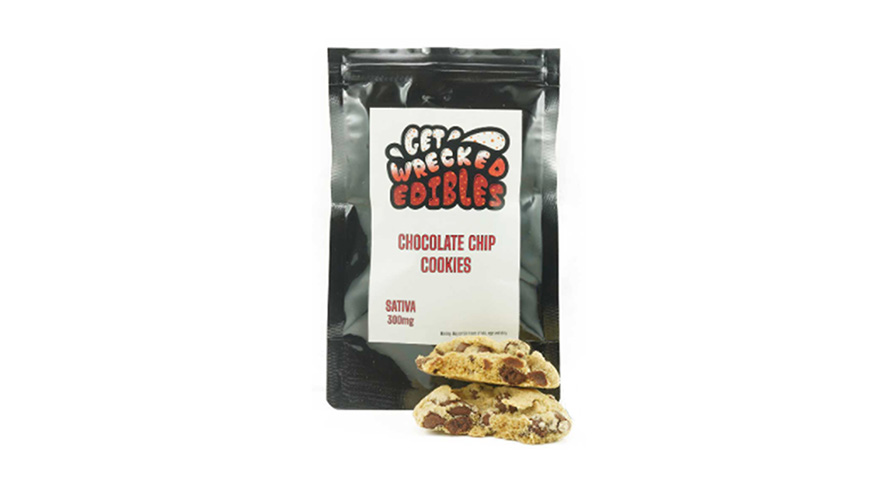 Get Wrecked, literally. These weed chocolate chip cookies will get you hooked after just one bite. The Get Wrecked Edibles Chocolate Chip Cookies are perfect for stoners with a sweet tooth who want to taste chewy baked edibles treats with Sativa. 
The entire package contains 300mg of THC, perfect for sharing with friends or enjoying on your own. 
Since it's Sativa-based, you can expect the typical energizing and cerebral effects. You'll feel focused, motivated, energetic, and creative, and all of your senses will sharpen. 
These weed chocolate chip cookies are the ideal choice if you want a daily "pick-me-up" when you're feeling low on energy and foggy-minded. 
Unlike some bland baked edibles, these chocolate chip weed cookies are rich in flavour and aroma and they're ultra-potent. Although the effects take time to kick in, they're very long-lasting. Get these chocolate chip weed cookies at Chronic Farms for a mere $17.99. 
2. Get Wrecked Edibles – Chocolate Chip Cookies 300mg – Indica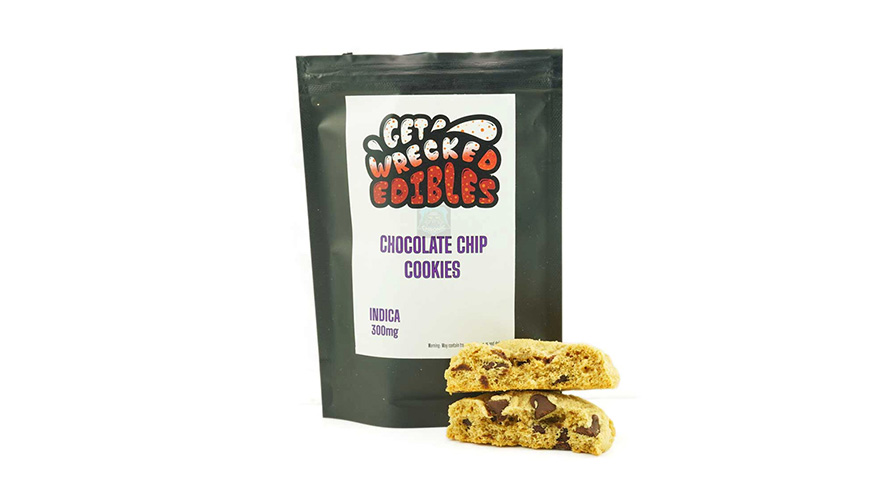 If you're a fan of the sedating effects of Indica, then these Get Wrecked Edibles Chocolate Chip Cookies are for you. They feature the highest-quality Indica weed for a lulling and total body relaxing effect. 
If you want cannabis chocolate products that are abundant in flavour, and aroma and have a mind-boggling effect, you need to get the 300mg potency version. 
Like other edibles, these will kick in slowly, but the effects last six or more hours (depending on factors like your metabolism, weight, etc). 
Moreover, reviewers claim that, unlike some cannabis chocolate, the balance of chocolate chips in the product is great. You get an even ratio of cookie and chocolate with satisfying crunchiness. 
In short, each canna cookie will give you a delightful Indica punch. Whether you're looking for THC chocolate for sleep disorders like insomnia, inflammation, anxiety, stress, or other medical conditions, these cookies will do the trick. 
That said, if the THC content is too high for you, you can find this product in a 100mg version. Enjoy the best canna cookie for only $17.99.
3. Get Wrecked Edibles – Chocolate Brownie 100mg THC (Indica)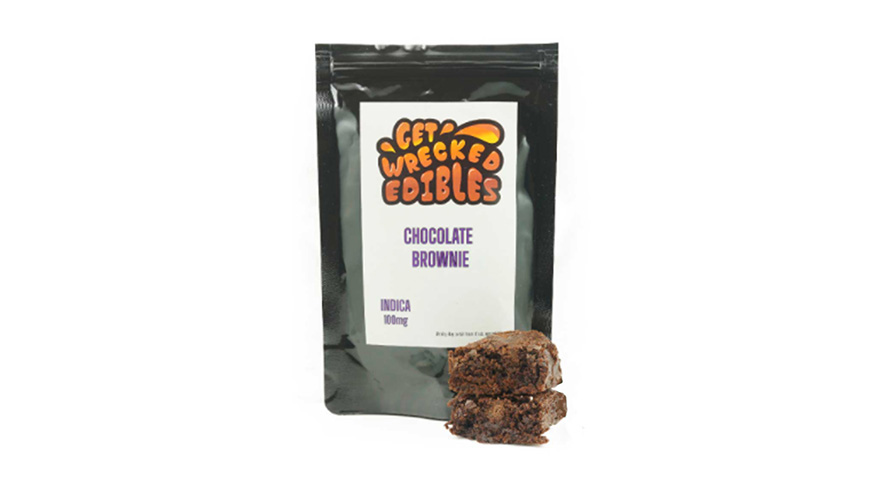 These Get Wrecked Edibles Chocolate Brownies taste like a small piece of heaven. If you desire gooey THC chocolate bars but you prefer the brownie texture, you need to give these Indica delights a go. 
In the entire package, you get 100mg of THC. That means that you can enjoy these brownies for both recreational and medical purposes. 
In fact, some patients enjoy using chocolate THC like these brownies for reducing inflammation in the body and alleviating stress. 
According to numerous users, these chocolate weed bars will take all of the stress and anxiety away and leave you feeling relaxed and peaceful. Say goodbye to all of your negative and limiting beliefs and welcome only good vibes! 
If you are experienced in baking weed, you know how hard it is to get the right texture. Fortunately, these brownies are soft, springy, and rich. 
They have a natural chocolate taste that is not too overpowering. So, even if you are not a fan of sugary treats, you will enjoy this chocolate THC. Best of all, they're insanely affordable. Get them at Chronic Farms, your favourite weed store, for just $11.99.
Baking with Weed: How Do You Do It?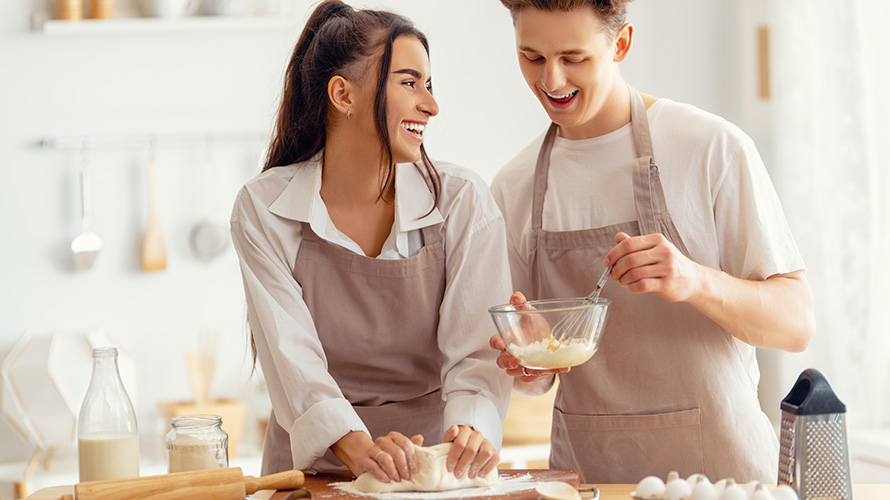 Baking with weed takes time and patients, but the entire process is fun and easy once you get the hang of it. 
To start, you'll need to begin with decarboxylation. This means that you'll need to heat the weed first – this way, your body will be able to absorb the cannabinoids such as CBD and THC. 
Remember, when you smoke marijuana, this naturally happens from the lighter's flame. 
When baking with edibles, you'll need to do this process at a low temperature so the plant remains intact. 
Always begin with a tiny amount of weed when creating your own cannabis-infused oil, butter, or anything else. 
Most recipes on the web will require equal parts of cannabis to baking ingredients. For instance, some recipes may call for one cup of ground cannabis and one cup of butter. However, you may need to make adjustments. 
Below, you will find a simple recipe to make homemade THC chocolate bars.
Customer-Favourite Baked Edibles Recipe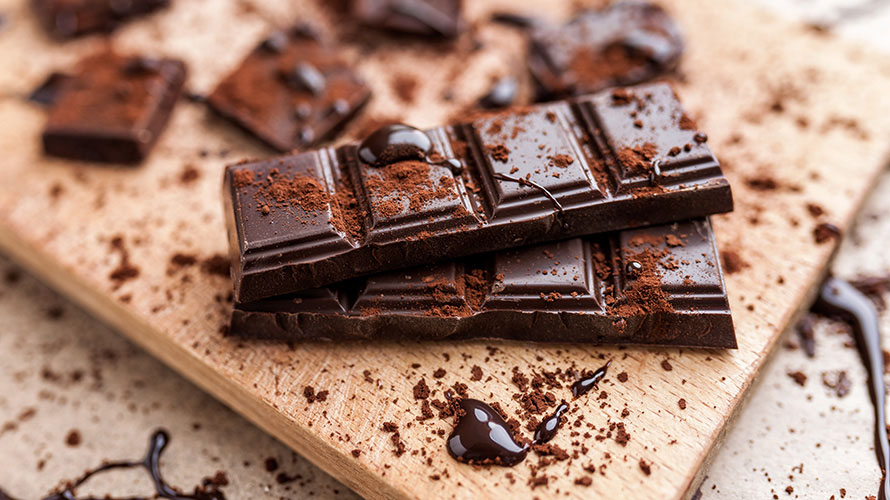 Are you ready for baking weed? Here is a quick and easy recipe for homemade THC chocolate bars all of your friends will be raving about! The recipe calls for just a few ingredients. 
The ingredients for these delicious THC chocolate bars include:
• 4 cups of high-quality melting chocolate (the better quality, the more delicious the final result will be!)
• 0.33 cup of cannabutter (make sure it is at room temperature)
• Double broiler (place a pot over another pot with boiling water)
• Different candy moulds
Once you've gathered the ingredients, you can start with making the chocolate weed bars. Here are the steps.
• Step 1: Add water to the double broiler and get it to boil. Once it starts boiling, turn the heat to low. 
• Step 2: Add two cups of chocolate to another pot, place it on the double broiler and stir the ingredients for 30 seconds (or until the chocolate is fully melted).
• Step 3: Add the remaining chocolates and stir until your mixture is free of lumps.
• Step 4: Add the cannabutter and incorporate it with the chocolate. Make sure to stir vigorously.
• Step 5: Once everything is incorporated and you achieve a smooth consistency, pour the cannabutter chocolate into the candy moulds.
• Step 6: Refrigerate the chocolate weed bars until they are fully hardened.
• Step 7: Once they're ready, remove the chocolates from the moulds and store them in a container in your fridge.
• Step 8: Enjoy your homemade chocolate weed bars! Alternatively, try these pothead-favourite homemade weed brownies.
Although baking weed is simple, some people don't have the time and supplies. If you want to take an easier route, you can always find premium THC chocolate bars in Canada. 
Make sure to look for a tried and tested online dispensary like Chronic Farms for the best baked edibles on the market.
Benefits of Baked Weed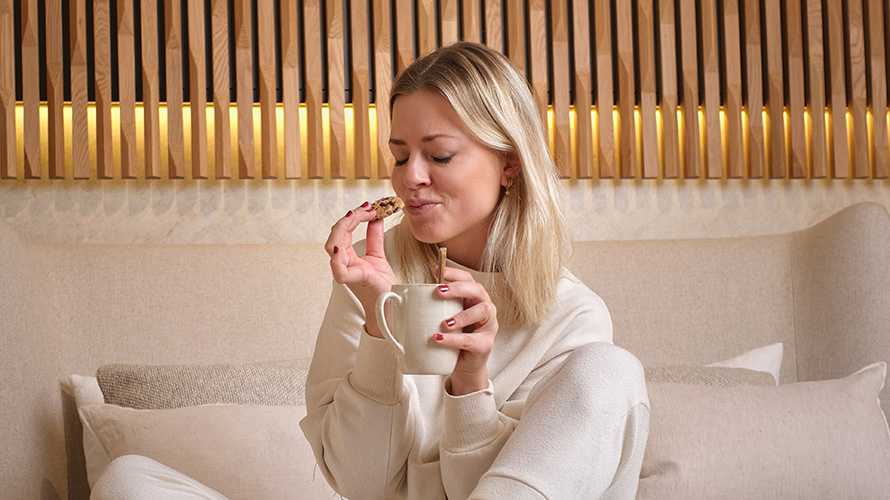 Baked edibles have countless benefits. Not only are they ultra fun and yummy, but they also give you a longer-lasting effect. Since baked edibles are consumed orally, the effects can last up to six hours or more. 
Additionally, consuming baked edibles infused with cannabis will not cause potential damage to your lungs, compared to smoking weed. Plus, the options are virtually endless! Do you want mouthwatering THC chocolate bars in Canada? 
You can find them in all flavours and potency levels. Are you craving brownies or muffins? You can get those too. Pick and choose your favourite.
Where Can I Find the Best Baked Weed in Canada?
You can find the best baked edibles at Chronic Farms, the number one dispensary in Canada. 
Get a hold of the most popular mail order marijuana and save money on budget buds today. Order baked edibles, or opt for dry herbs, concentrates, vapes, mushrooms, etc. It's all up to you! Get high and save cash.