Aloha, Highness: Your Guide to Pineapple Express
Hula skirts, high spirits, delicious taste – all aboard the Pineapple Express! 
This rocking bud was the star of the hilarious Pineapple Express movie starring Seth Rogen and for a good reason! It's one of the best strains to feel energized and become ripped, all while being higher than ever!
In this guide to the Pineapple Express strain, you will learn about its genes, THC content, terpenes, and of course, the insane effects. 
You'll find out WHY the Pineapple Express weed strain is the best thing you can get at your online dispensary today. You'll also discover the answer to "Is Pineapple Express Indica or Sativa?", "How long do the effects last?" and more!
Read on and buy this flavourgasmic bud from your online weed dispensary!
Pineapple Express: The Quickest Way to Get Super High
Is Pineapple Express Indica or Sativa? It's a Sativa hybrid (60 percent Sativa and 40 percent Indica) with around 25 percent of THC (often even more!). 
Just remember to buy weed online like Pineapple Express from a reputable and trustworthy source.
What makes this Sativa special? The almost instant effects.
Few cannabis strains like the Pineapple Express get you high in the blink of an eye. We're talking about immediate energy and focus! But more on that later in this Pineapple Express review.
For now, you need to know that it's a powerhouse with a blend of sweet, fruity flavours and aromas. 
Picture the zestiest citrus with tons of pineapple, and pine notes. Then, there's a good dose of earthiness to balance things out. 
Overall, it's one of those unique Sativas that anyone should try – both beginners and expert users with more refined taste buds.
With that in mind, this is an ultra-popular Sativa. And we mean it!
Namely, due to the rising popularity, it can be hard to get at your weed store. Fortunately, if you are lucky enough, you can find the Pineapple Express strain at a better-equipped online weed dispensary. 
Just act fast and snatch it as soon as possible! When you taste it, you'll know why it's the best Sativa you can order from an online dispensary.
Never shopped at an online dispensary before? You are in for some cool surprises: An online dispensary will revolutionize the way you shop for weed!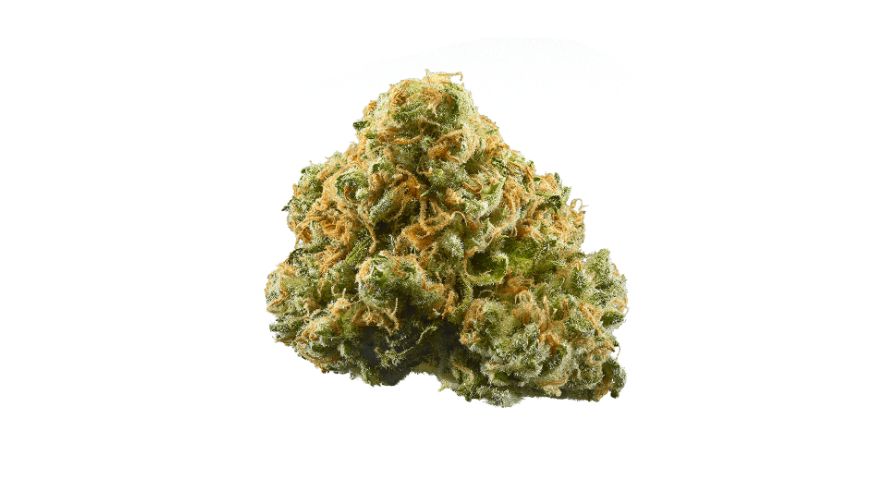 You'll Never Believe the Genes of the Pineapple Express Strain
Remember when Myspace was cool and everyone had flip phones? 
Let's travel back to the mid-2000s, the time when this iconic strain came to be! 
According to the leading actor of the Pineapple Express movie, the strain came after. Yes, first came the Pineapple Express film, then the actual strain. 
Growers were so inspired by the movie that they had to make the bud real. That's when they crossed the delicious Hawaiian with the one and only, Trainwreck. 
What do you get when you mix the tropical aura of Hawaiian with the euphoric and intense rush of Trainwreck? A tasty and potent beast with energizing and invigorating qualities! 
Pineapple Express Weed Strain Terpenes: Wait, What?
When you get a whiff of the Pineapple Express strain, you'll get some strong earthy notes – that's Myrcene making its presence known! 
Surprisingly, Myrcene is a calming and soothing terpene, making the fact that it is also the most abundant in the energy-enhancing Pineapple Express a bit strange. But it works! 
Actually, Myrcene increases the already analgesic properties of Pineapple Express, making this strain a good option for anyone looking for stress and anxiety relief. 
Then, there's Pinene (pine) and Caryophyllene (pepper). It's no surprise – these two terpenes bring an extra kick to the Pineapple Express weed, as well as some anti-inflammatory, pain relieving, and anti-anxiety properties.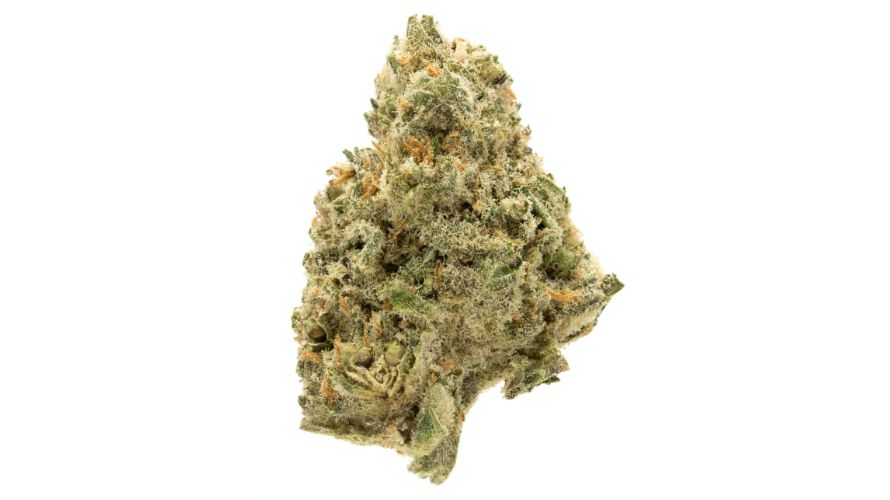 Effects of the Pineapple Express Strain: Life Has Never Been Easier
The Pineapple Express weed strain is a multitasker. It makes you feel calm but also focused and energized. 
Here are just some of the many ways it can boost your life quality and make even the smallest everyday things more enjoyable!
1. You will feel stronger and more energetic: Who needs a personal trainer when you have the Pineapple Express? 
Smoke some before working out to elevate your exercise routine, do more reps, run faster, and overall perform better. Every squat will feel like a victory dance, and it will make your gym sessions feel like the most awesome rave party!
On the flip side, if you want to feel sedated and like you are "melting", smoke the Bruce Banner strain.
2. You will become a social butterfly: The Pineapple Express will make you a bubbly and fun person everyone wants to become friends with. 
You'll be in the mood for socializing, whether it's at a cool get-together or a dreadful Zoom meeting! 
Buy weed online and get the Pineapple Express if you want to break free from the introvert bubble and let your personality shine! This Sativa is also great if you just want to hang out with your besties.
3. You will laugh like crazy: Even dad jokes don't stand a chance with the Pineapple Express! This Sativa will hit your funny bone harder than any strain you've tried.
Gather with some friends, watch the Pineapple Express movie, smoke some good kush, and laugh your way through the night!
4. You'll feel sharper: Lack of focus? Feeling down and unmotivated? The Pineapple Express is an excellent solution to all of your mental issues. It's a high-THC strain, which means that it will smack the laziness and focus problems out of you – for good!
5. You will feel happier: As you are aware, the Pineapple Express is great for lifting your spirit and improving your mood. It's a burst of tropical sunshine on a cloudy day!
Also, were you aware that the Pineapple Express strain also has some fantastic medical properties? In fact, it can help people with conditions such as chronic pain, inflammation, appetite loss, insomnia, and anxiety.
Talk to a doctor and an expert budtender to find out how you can get started healing with the Pineapple Express!
Strains Like Pineapple Express to Buy from an Online Dispensary
Visit your online dispensary and experiment with these cannabis products! Purchase mail order marijuana now!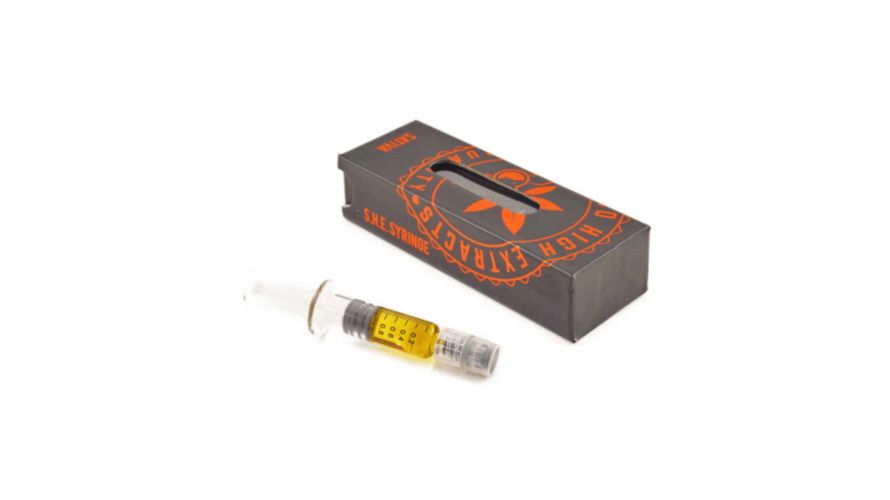 So High Premium Syringes – Pineapple Express
The So High Premium Syringes – Pineapple Express is a superb canna product to get from an online dispensary if you want to go to the tropics without booking a flight. 
These syringes allow you to enjoy the full effects of the Pineapple Express in a clean and simple way. 
Get it from an online dispensary and enjoy THC distillate with beneficial terpenes for focus, better mood, and zero fatigue. In each syringe, you get 1g of THC distillate (95.79 percent of THC). It's effective and budget-buyer-approved. 
Buy weed online and spend just $29.99.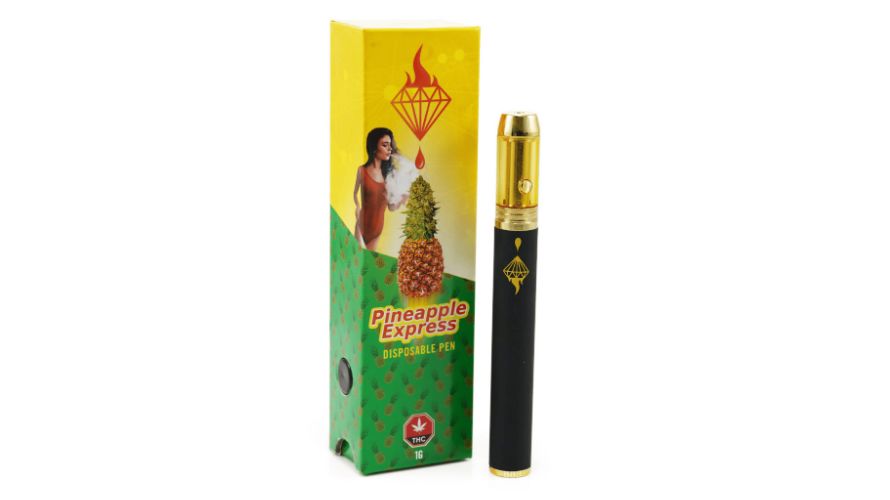 Diamond Concentrates – Pineapple Express – Disposable Pen
If you are a big vaper and you want to taste heaven, get the Diamond Concentrates – Pineapple Express – Disposable Pen. 
This Pineapple Express vape is pull-activated and simple to use – even complete beginners can learn how to use this device in a few seconds! 
The effects are quick and long-lasting, making this disposable pen a suitable option for medical patients seeking almost eternal relief. 
Buy weed online and get the Pineapple Express disposable pen for $39.99.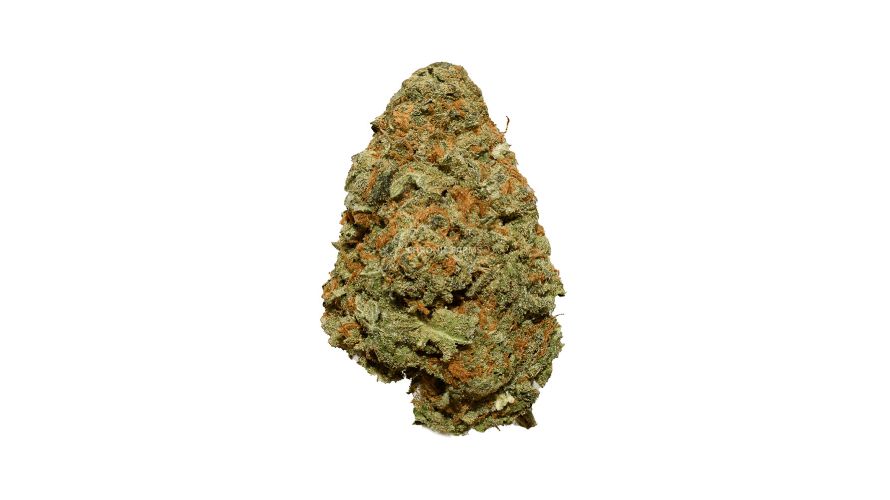 If you can't find the Pineapple Express at your online dispensary, go with a close relative – the equally yummy Maui Wowie (AAA). 
This is also a Sativa hybrid from the Hawaiian Islands. It's got a similar taste and flavour, so if you are seeking an almost perfect substitute for the Pineapple Express, you should go with this bud. 
Buy weed online like Maui Wowie and drift off to a euphoric bliss where daily problems and tension don't exist. 
Users say that this Sativa can make your body buzz, so it's a good idea to smoke some before an intense exercise. Buy weed online and try Maui Wowie for as low as $9.99! 
It's the cheapest and highest-quality mail order marijuana you can find.
Go to your online dispensary straight away to find more strains like Pineapple Express!
FAQ
Is Pineapple Express Indica or Sativa?
The Pineapple Express strain is a Sativa hybrid with around 25 percent of THC. 
Because of its genetics (it's 60 percent Sativa and 40 percent Indica), you can expect mainly energizing and creativity-enhancing effects with a fair dose of relaxation. 
Keep in mind that Sativas are cerebral and buzzing, while Indicas are sedative. You won't feel couch-locked though. Just a bit calmer and much happier!
How long does the Pineapple Express high last?
The exact time frame of the high will depend on many factors such as your tolerance level, age, the type of product you've smoked, the dosage, and much more. Typically, the high can last for multiple hours.
Sometimes, you can feel a bit high even the next day!
Can newbies use the Pineapple Express?
Yes, newcomers can enjoy the Pineapple Express weed strain, but it is not the perfect bud for beginners. Namely, this is one of the most potent Sativas you can find at an online dispensary, and the effects last long.
So, beginners are more prone to side effects like paranoia, red eyes, and cottonmouth.
While negative effects are unlikely to happen, they are possible if you use too much Pineapple Express. Always smoke the appropriate amount, and whenever in doubt, turn to a doctor. Drinking plenty of water and eating some snacks also helps ward off side effects.
Snag the Best Mail Order Marijuana
Get Pineapple Express now, and your future self will thank you! But act quick—this train's gaining speed! Order it now from the best online dispensary.