High Octane Strain Review: Premium Gas For Next-Level Highs
Hybrid cannabis strains are some of the most popular on the market as they offer the perfect balance of cerebral stimulation and physical relaxation.
High Octane strain is one of these well-balanced hybrids, quickly becoming popular among cannabis consumers.
If you're looking for an energetic strain to help you power through the day, then High Octane strain might be perfect for you.
This slightly sativa-dominant hybrid provides a strong cerebral buzz that will keep you motivated and focused.
High Octane strain is a popular choice among marijuana users looking for a boost in energy.
So, what exactly makes High Octane strain so popular? Let's take a closer look at this comprehensive strain review.
Origin Of The High Octane Strain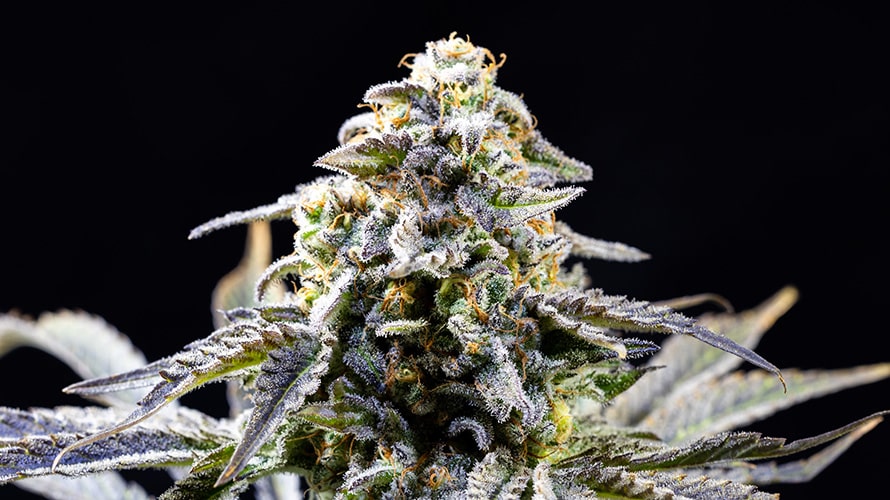 Several strains, including Hi Octane, High Octane Kush and High Octane, have similar sounding names, which might be confusing.
Hi Octane, or High Octane, is an evenly balanced Octane and Sunset Sherbet hybrid, while High Octane OG is a 100 percent Indica strain created from Chemdawg and Hindu Kush genes.
High Octane strain genetics are 70% Sativa and 30% indica. The THC content of this strain ranges from 19% to 26%. Its CBD content is relatively low, typically from 0.5% to 1%.
This makes High Octane strain a good choice for consumers looking for THC's benefits without the overwhelming psychoactive effects.
Appearance, Smell, And Taste Of High-Octane Strain
High Octane strain buds are typically tiny to medium in size and dense in structure, which is light green.
They are popcorn-shaped and have a deep green coloration with orange pistils peeking through a coating of white trichomes.
When properly cured, High Octane strain give off a diesel fuel smell with hints of lemon and pine. These flavours also come through on the taste, making for a pleasant smoking experience.
There is also a diesel scent present, which isn't surprising given that Sour Diesel is one of the parent strains.
Flavour
When smoked, High Octane strain tastes like sour lemon with a diesel aftertaste. The diesel flavour is more pronounced on the exhale.
High Octane strain is also relatively smooth, making it easy to smoke even for those who don't usually enjoy smoking cannabis.
The flavour profile of High Octane strain is a jumble of various terpenes you don't encounter all that often. Bisabolol, Carene, Ocimene, and Phellandrene are all present.
When you light up Hi-Octane, you'll be hit with spicy lime and herby citrus flavours. However, as you keep smoking, it will gradually become a more natural earthy flavour, similar to cedarwood.
This change in taste will remind you of being outdoors.
The result is a chemmy, nutty taste with a pungent smell that will give you a sense of relaxation while making you feel creative and mentally energized.
Effects Of The High-Octane Strain
Because of its high THC content, consumers should expect powerful effects from High Octane strain. The cerebral stimulation comes through immediately, providing consumers with creative energy and mental clarity.
You may also find yourself becoming more talkative than usual. Despite the head high, this strain won't leave you feeling jittery or anxious.
The physical relaxation from the Hi Octane strain becomes apparent after about 20 minutes, making this strain perfect for daytime use since it leaves you feeling mellow and relaxed.
All told, this strain's effects last about 2 to 3 hours.
Sometimes the effects of High Octane OG are almost immediate, with users reporting a feeling of heaviness in their limbs and a sense of couch-lock.
The head high is also very intense, with users often feeling spacey and disconnected from reality.
High Octane strain is not recommended for novice users or those with low tolerance levels. However, for experienced users, it can be a compelling and pleasant experience.
After smoking, we recommend activities that don't require much from the user, such as some television time.
We also recommend preparing some food since this strain will undoubtedly stimulate your appetite.
Medical Benefits Of High-Octane Strain
High Octane strain is a weed used to provide medical benefits to patients who need it. The weed has a high THC content that helps alleviate pain and relieve anxiety, and stress.
The weed also has anti-inflammatory properties, which help to reduce swelling and redness.
It can also help to improve appetite and sleep quality. High Octane is the perfect choice if you're looking for a weed strain that can offer you a wide range of medical benefits.
Possible Negative Side Effects Of Smoking High Octane Strain
Like all cannabis strains, there are potential adverse side effects associated with smoking High Octane. These side effects are typically mild and short-lived but can include:
Dry eyes and mouth

Anxiety

 Paranoia

Dizziness

Headaches
These side effects are more common among novice cannabis consumers or those who smoke too much. It's always best to start with a small dose (1 to 2 hits) and increase as needed until you find your sweet spot.
Some Of The Best High Octane Weed To Buy Online In Canada
1. High Octane OG (AAAA)
High Octane OG (AAAA) is a potent Indica-dominant hybrid that delivers powerful euphoric effects. A top choice for anyone looking for a relaxing strain, High Octane has a THC content that typically ranges from 20-25%.
The price of High Octane OG is relatively affordable, especially for such a high-quality strain. 
This makes it an excellent choice for budget-minded cannabis users. High Octane OG is also very popular, so you can't go wrong trying it.
High Octane OG is sure to deliver whether you're looking for relaxation or a good time.
2. 91 Octane
If you can't find High Octane, 91 Octane strain is another potent gassy indica that packs a flavourful punch.
This dispensary favourite is well-known for its robust body effects, but its delicious taste sets it apart.
When you order marijuana online from our weed store, Chronic Farms, you can expect a smooth shopping experience, guaranteed lowest prices, incredible discounts, high-quality products and Canada-wide shipping!
Those looking for a robust Indica-dominant hybrid with great flavour should try Octane 91 from Chronic Farms.
You will appreciate our online weed store's easy purchasing process and quick shipping to your doorstep anywhere in the country. 
Where To Buy Weed Online In Canada
If you're looking for cheap weed in Canada, the best place to buy it online is from a reliable mail-order dispensary such as Chronic Farms.
We offer a wide range of strains and weed products at great prices in addition to discounts, deals and sales to save you more.
When you buy weed online in Canada, you have the advantage of being able to choose from a wide selection of products. You can find everything from high-quality buds to edibles and concentrates.
We're confident that you can find the perfect product for your needs at our mail-order marijuana dispensary.
Plus, you'll often find better deals on weed when you buy it online than if you purchased it in person from a dispensary. If you're looking for the best possible prices on weed, buying online is the way to go.
Should You Try High Octane Strain?
The High Octane strain is an excellent choice for cannabis consumers looking for moderate to high THC content without intense psychoactive effects.
It's also a good choice for those seeking relief from stress, anxiety, pain, or fatigue but still want to be productive throughout the day.
Have you had a chance to try High Octane? If so, let us know what you think in the comments below!
Overall, we're big fans of High Octane. It's the perfect strain when you need an energy boost to get things done.
The head high is uplifting and happy without being too overwhelming, and the body high is relaxing without sedating.
If you're looking for an excellent Sativa-dominant hybrid, we recommend giving High Octane a try.
Besides, if you're looking for an energetic strain that will keep you going all day long, High Octane is a great choice.
This Sativa-dominant hybrid has a strong citrus aroma and flavour, with pine and earth notes.
You can now get premium High Octane buds from Canada's leading online dispensary, Chronic Farms. Buy weed online from us today and enjoy a smooth shopping experience, quality goods and fast shipping throughout Canada.